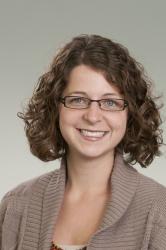 Renee T. Temme, MS CGC
Genetic Counselor
(612) 813-7240
Specialties: Genetics/Genomics | Genetics, Counseling
Professional History
Board Certification
American Board of Genetic Counseling

Professional Education
MS - University of Wisconsin Madison
Madison
2007

Contact Information
Primary Location:
Childrens Minnesota Genetics
2545 Chicago AVE S MDB 17-700
Minneapolis, MN 55404
(612) 813-7240

Secondary Location(s):
Childrens Minnesota Cystic Fibrosis
2530 Chicago AVE S STE 390
Minneapolis, MN 55404
(612) 813-6107

Childrens Minnesota Genetics
345 N Smith AVE STE 61-245
St Paul, MN 55102
(612) 813-7240

Personal Biography
Renee Temme, MS, CGC is a Genetic Counselor at Children's Hospitals and Clinics of Minnesota. She joined Children's in 2007 and works with the Genetics Program, Cystic Fibrosis Program and the Velocardiofacial Syndrome Clinic. Renee graduated from the University of Wisconsin-Madison Genetic Counseling Program with a Master of Science Degree in Medical Genetics. Her areas of interest include working with children with special health care needs and their families, helping families understand genetic conditions and connecting families with appropriate local and national resources. She also educates medical students, residents and health care providers in the community about cystic fibrosis and newborn screening for cystic fibrosis.