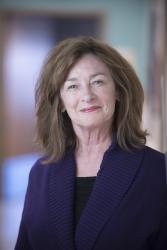 Mary Alice Langevin, APRN CNP
Nurse Practitioner - Family
(612) 813-5940
Specialties: Hematology and Oncology, Pediatric
Video: Watch Video Profile
Professional History
Board Certification
American Association of Nurse Practitioners

Oncology Nursing Certification Corporation

Professional Education
MSN - Metropolitan State University
St Paul
2007

Contact Information
Primary Location:
Childrens Minnesota Hematology Oncology
2530 Chicago AVE S STE 175
Minneapolis, MN 55404
(612) 813-5940

Secondary Location(s):
Childrens Minnesota Hematology Oncology
345 N Smith AVE STE 70-301
St Paul, MN 55102
(651) 220-6732

Personal Biography
Mary Langevin is a family nurse practitioner who works in the hematology / oncology clinic on the Minneapolis campus at Children's Hospitals and Clinics of Minnesota. Her areas of practice include general oncology and the Long Term Follow-up Clinic for survivors of pediatric cancers. She holds certification in pediatric oncology nursing and holistic nursing. Mary started at Children's as a staff nurse on the inpatient oncology unit fourteen years ago. Areas of interest include integrative medicine, nutrition, and complementary and alternative therapies. Mary also spends time as an advanced practice nurse in oncology/hematology and is one of the founders of the Nursing Scholars Fellowship Program which was established to assist bedside nurses to implement evidenced based practice and identify a process and pathway for nursing clinical inquiry.