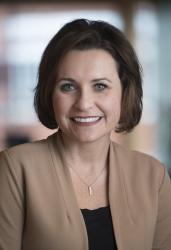 Carolyn Elizabeth Leach, APRN CNP
Nurse Practitioner - Pediatric
(651) 220-6624
Specialties: Endocrinology, Pediatric
Video: Watch Video Profile
Professional History
Board Certification
Pediatric Nursing Certification Board

Professional Education
MSN - University of Nevada Las Vegas
Las Vegas
2009

Contact Information
Primary Location:
Childrens Minnesota Diabetes Endocrine
347 N Smith AVE STE 404
St Paul, MN 55102
(651) 220-6624

Secondary Location(s):
Childrens Minnesota Woodbury Endocrinology and Diabetes Clinic
628 Bielenberg DR STE 200
Woodbury, MN 55125
(651) 220-6624

Personal Biography
Carolyn Leach is a board certified pediatric nurse practitioner within the Diabetes and Endocrinology Department at Children's Hospitals and Clinics of Minnesota. She attended her pediatric nurse practitioner program and obtained her Master's of Science in Nursing from the University of Nevada, Las Vegas. At the University, she completed her thesis on the topic of assessment methods of parents of overweight and obese children. Carolyn previously worked as a registered nurse at Children's Hospitals and Clinics of Minnesota on the Diabetes / Medical-Surgical floor and the pediatric intensive care unit before moving out of state. She rejoined Children's in the fall of 2009. Her areas of interest include; diabetes education, treatment and maintenance, as well as management of other endocrine diseases, such as hypothyroidism and growth hormone deficiency. She is focused on providing patient and family centered care. Carolyn enjoys traveling, running and spending time with her husband and daughter.