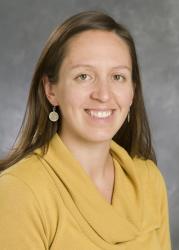 Molly B. O'Connell, APRN CNP
Nurse Practitioner - Pediatric
(612) 813-7155
Specialties: Hospitalist | Pediatrics
Professional History
Board Certification
Pediatric Nursing Certification Board

Contact Information
Primary Location:
Childrens Minnesota Hospitalist Program
2525 Chicago Ave S STE 32-1024
Minneapolis, MN 55404
(612) 813-7155

Secondary Location(s):
Childrens Minnesota Hospitalist Program
345 N Smith AVE STE 3249
St Paul, MN 55102
(612) 813-7155

Personal Biography
Molly O'Connell is a Board Certified Pediatric Nurse Practitioner on the Hospitalist service in Minneapolis. She completed her graduate education at the University of Washington in Seattle and graduated with a Master of Nursing in 2007. She also received a Graduate Certificate in HIV and STIs and focused on adolescent sexual and reproductive health issues. She has a strong interest in global health issues among the pediatric and adolescent populations and participated in a self-designed, experiential learning project in which she visited and collaborated with the Planned Parenthood Association of South Africa. She has worked at Seattle Children's Hospital and University of Minnesota Amplatz Children's Hospital. Born and raised in St. Paul, Minnesota, she attended Beloit College (WI) and received a Bachelor of Arts in Creative Writing and Women's Studies. Outside of work, she enjoys cooking, reading, music, camping, cross country skiing, and traveling; as well as spending time with her husband Chuck, daughter Maeve, and son Walter.