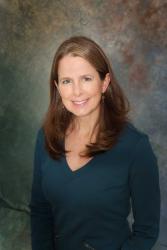 JoAnne R. Hoffman Jecha, MD
Physician
(952) 401-8300
Specialties: Pediatrics
Professional History
Medical Education
MD - University of Minnesota Medical School
Minneapolis
1991

Residency/Fellowship
Residency - University of Minnesota Medical Center
Minneapolis

Contact Information
Primary Location:
South Lake Pediatrics
6060 Clearwater DR
Suite 240
Minnetonka, MN 55343
(952) 401-8300

Secondary Location(s):
South Lake Pediatrics
111 Hundertmark RD
Suite 210
Chaska, MN 55338
(952) 401-8300

South Lake Pediatrics
800 Prairie Center DR
Suite 120
Eden Prairie, MN 55344
(952) 401-8300

South Lake Pediatrics
12000 Elm Creek BLVD
Suite 250
Maple Grove, MN 55369
(952) 401-8300

South Lake Pediatrics
17705 Hutchins DR
Suite 250
Minnetonka, MN 55345
(952) 401-8300

South Lake Pediatrics
2805 Campus DR
Suite 235
Plymouth, MN 55441
(952) 401-8300

Personal Biography
JoAnne Hoffman Jecha, MD is a pediatrician with South Lake Pediatrics, (Children's Minnetonka location) in practice since 1994. She attended St. Olaf College, University of Minnesota Medical School and completed a residency in general pediatrics at the University of Minnesota. She has actively served on a variety of committee's and task forces addressing issues such as adolescent healthcare, care of the hospitalized patient and ADHD. She is currently serving on the Children's Hospital and Clinics Minnetonka Board of Directors, the Physician Preferred Associates Board of Directors and participates in a collaborative of mental health professionals. Additionally JoAnne serves as the Director of Mental Health Services and Chairs the Hospital Rounding Committee at South Lake Pediatrics. Her special areas of interest include child development and behavior/mental health from infancy to teens. She also enjoys caring for both typical children and those with more complicated acute and chronic medical conditions. JoAnne is married and has 2 teenagers.