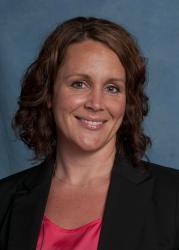 Jennifer Lea Worley, APRN CNP
Nurse Practitioner - Pediatric
(612) 813-7888
Specialties: Trauma Services
Professional History
Board Certification
Primary Care, Certified Pediatric Nurse Practitioner - Pediatric Nursing Certification Board

Professional Education
MA - St Catherine University
St Paul, MN
2012

Contact Information
Primary Location:
Childrens Minnesota Integrative Medicine
2525 Chicago AVE S STE 32-T5
Minneapolis, MN 55404
(612) 813-7888

Secondary Location(s):
Minnesota Clinical Research Center
2550 University AVE S STE 423S
St Paul, MN 55114
(612) 870-5719

Personal Biography
Jennifer Worley is an Advance Practice Registered Nurse (APRN-CNP) in the Pain, Palliative Care, and Integrative Medicine program at Children's of Minnesota. She received her Bachelor's and Master's degrees in Nursing from St. Catherine University in St Paul, Minn. Jennifer worked in the acute care setting for most of her 17 year career, first as a nurse in the operating room and then as an APRN for Trauma Services. While working in surgery, she became interested in integrative health for herself and her family, and began pursuing information on nutrition, supplements, and yoga. She completed yoga teacher training prior to starting graduate school in 2010 and is a registered yoga teacher (RYT-200). She has since completed advanced training, including courses on mind-body skills, breath work, and children's yoga, and is currently pursuing a 500 hour teacher certificate through Yoga Medicine. Jennifer joined the Integrative Medicine team in 2015. She provides inpatient Integrative Medicine services on the Minneapolis and St Paul campuses, helping children and families incorporate integrative strategies in their care. Her professional interests include nutrition and supplements for wellness promotion, and mind-body skills for self care, including mindfulness, meditation, and relaxation breathing. Additionally, she is trained in hypnosis, biofeedback, aromatherapy, and acupressure. She also currently teaches yoga classes and workshops in various locations in the Twin Cities area.