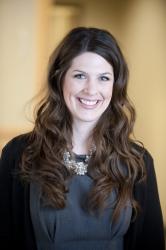 Heidi Lynn Gruenhagen, APRN CNP
Nurse Practitioner - Pediatric
(612) 874-1292
Specialties: Otolaryngology, Pediatric | ENT, Otolaryngology, Pediatric
Professional History
Board Certification
Primary Care, Certified Pediatric Nurse Practitioner - Pediatric Nursing Certification Board

Professional Education
MA - St Catherine University
St Paul, MN
2012

Contact Information
Primary Location:
Childrens Minnesota ENT Facial Plastic Clinic
347 N Smith AVE STE 601
St Paul, MN 55102
(612) 874-1292

Secondary Location(s):
Childrens Minnesota ENT Facial Plastic Clinic
2530 Chicago AVE S STE 450
Minneapolis, MN 55404
(612) 874-1292

Personal Biography
Heidi Gruenhagen, APRN, CNP received her Pediatric Nurse Practitioner-Primary Care from St. Catherine's University in St. Paul. During her graduate training, she had the opportunity to spend nine months with Dr. Barbara Malone in a private practice setting and in the operating room of Children's St. Paul. She later joined the Children's Otolaryngology team in July 2012 focusing on common childhood ENT problems. Heidi's work interests have included recurrent ear infections, recurrent strep, inpatient tracheostomy maintenance, and surgical assisting. Additionally, she has had the opportunity to give back to St. Catherine's University by precepting Nurse Practitioner and Physical Assistant students. Outside of work, Heidi enjoys spending time with her husband and son, traveling, volunteering, exploring the outdoors, and dining at new restaurants. Heidi believes that each child is unique and their care should reflect their unique needs.