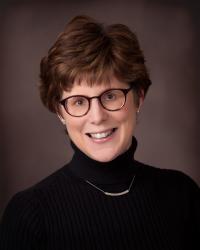 Kelly Swearingen Lemieux, MD
Physician
(952) 495-8910
Specialties: Pediatrics
Professional History
Board Certification
American Board of Pediatrics

Medical Education
MD - University of Minnesota Medical School
Minneapolis
1992

Residency/Fellowship
Residency - University of Minnesota Medical Center
Minneapolis
1995

Contact Information
Primary Location:
Wayzata Childrens Clinic
4695 Shoreline DR
Suite A
Spring Park, MN 55384
(952) 495-8910

Secondary Location(s):
Wayzata Childrens Clinic
14001 Ridgedale DR
Suite 100
Minnetonka, MN 55305
(952) 473-0211

Personal Biography
Kelly S. Lemieux, MD (pronounced "LaMere" was born in St. Paul and lived several hears in Virginia, Minnesota. She graduated magna cum laude from the College of St. Benedict in 1988 with a Bachelor of Arts degree in Natural Sciences and an Associate of Arts degree in Music Performance (flute). She earned her Medical degree from the University of Minnesota in 1992, finished pediatric residency there in 1995, and began working at the Wayzata Children's Clinic shortly thereafter. Dr. Lemieux is Board Certified in Pediatrics. She currently serves as President of the Board for the Wayzata Children's Clinic, and chairs the Maternal Child Health Committee at Ridgeview Medical Center in Waconia. She has also been previously involved in Board work for St. David's School for Child development and Family Services and the Children's Physician Network. Dr. Lemieux's Clinic interests include children with food allergies and asthma. Kelly, her husband Bill, and children Will and Annie live in Victoria. In their spare time they enjoy travel, music, and all the children's activities the Twin Cities has to offer.