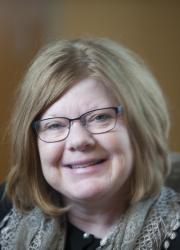 Karen Kay Hoyer, APRN CNP
Nurse Practitioner - Pediatric
(651) 220-6258
Specialties: Sleep Medicine
Professional History
Board Certification
Primary Care, Certified Pediatric Nurse Practitioner - Pediatric Nursing Certification Board

Professional Education
MSN - University of Missouri Kansas City School of Nursing and Health Studies
Kansas City, MO
2013

Contact Information
Primary Location:
Childrens Minnesota Sleep Center
310 N Smith AVE STE 480
St Paul, MN 55102
(651) 220-6258

Personal Biography
Karen is a Pediatric Nurse Practitioner in the Pediatric Sleep program at Children's Minnesota -- St. Paul campus. She attended the University of Missouri -- Kansas City where she received her Master's in Nursing degree and completed the PNP program. She began her career at Children's Hospital in 2006 in the Pediatric Sleep Clinic. Sleep Medicine is a topic that I am very passionate about as sleep wake disorders have a serious influence on health, mood, memory, daytime behaviors and quality of life. Good quality and quantity of sleep is vital to a child so that they will be able to function their best during the day. I find that the most rewarding aspect of sleep medicine is successfully treating the sleep disorder and seeing the positive outcome which can be life changing for the patient and family. Even minor recommendations have proven to make a positive impact for better sleep. My experience in sleep involves working with all ages of children from infants to young adults in college with a wide range of sleeping concerns. Behavioral Insomnia is very common in children under 5 years of age, trouble falling asleep and frequent night awakenings. This problem influences parents to make an appointment in the Sleep Center for help, as parent's sleep also suffers when the child is not sleeping well. Behavioral Insomnia is one of the sleep concerns that I will commonly see during my work week amongst other sleep issues of snoring, insomnia, sleep walking, night terrors, and trouble awakening in the morning that is more common problem with adolescents. A customized sleep plan working with a sleep specialist can improve a child's sleep and often does not involve needing medications. When the child is sleeping much better so are the parents and that makes for a happier family.