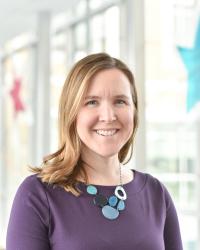 Gabrielle Zimbric Hester, MD
Physician
(612) 813-7155
Specialties: Pediatrics | Hospitalist
Professional History
Board Certification
Pediatrics - American Board of Pediatrics

Medical Education
MD - University of Wisconsin School of Medicine and Public Health
Madison, WI
2008

Residency/Fellowship
Residency - University of Utah School of Medicine
Salt Lake City, UT

Contact Information
Primary Location:
Childrens Minnesota Hospitalist Program
2525 Chicago Ave S STE 32-1024
Minneapolis, MN 55404
(612) 813-7155

Secondary Location(s):
Childrens Minnesota Hospitalist Program
345 N Smith AVE STE 3249
St Paul, MN 55102
(612) 813-7155

Personal Biography
Gabi is a pediatric hospitalist at Children's Minnesota. She also serves as the Hospitalist Quality Lead and the head of the Guideline Governance Council. She attended medical school at the University of Wisconsin-Madison School of Medicine and Public Health. She completed pediatrics residency and chief residency, a 2- year pediatric hospital medicine fellowship and a Master's of Science in Clinical Investigation at the University of Utah. She is interested in quality improvement, patient safety, and health services research as well as the care of hospitalized patients. Outside of the hospital she loves spending time with her husband and 2 children, nordic skiing, biking, and hiking.