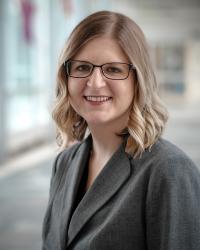 Carolyn Louise Hanna, PA-C
Physician Assistant
(651) 220-5700
Specialties: Orthopedic Surgery, Pediatric
Professional History
Board Certification
Physician Assistant - National Commission on Certification of Physician Assistants

Professional Education
MA - Hofstra University
Hempstead, NY
2013

Contact Information
Primary Location:
Childrens Minnesota Orthopedic
2530 Chicago AVE S STE G070
Minneapolis, MN 55404
(651) 220-5700

Secondary Location(s):
Childrens Minnesota Orthopedic
310 N Smith AVE Ritchie Building STE 400
St Paul, MN 55102
(651) 220-5700

Personal Biography
Carolyn Hanna, a certified physician assistant, attended PA school at Hofstra University in Hemstead, NY where she received her master's degree. During her studies, she conducted first hand qualitative research titled 'Health Literacy among Parents of Pediatric Patients'. Carolyn's main medical interest is in pediatric orthopedics. Before obtaining her master's, she attended the University of Wisconsin- Madison where she majored in German Language. In addition to her love of medicine and working with children, Carolyn loves to travel and explore new cultures. As a high school graduate she decided to live abroad in Germany for a year as an exchange student before attending college. She plays violin, piano and guitar, as well as thoroughly enjoys all types of musical events. She also enjoys spending time with family and friends, especially in Minnesota where she grew up.