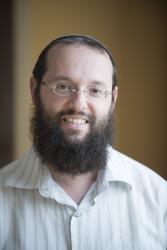 Yosef Yitzchak Wexler, MD
Physician
(651) 220-6258
Specialties: Sleep Medicine
Professional History
Board Certification
American Board of Pediatrics

Medical Education
MD - University of Minnesota
Minneapolis
2011

Residency/Fellowship
Residency - University of Minnesota
Minneapolis

Fellowship - Hennepin County Medical Center
Minneapolis

Contact Information
Primary Location:
Childrens Minnesota Sleep Center
310 N Smith AVE STE 480
St Paul, MN 55102
(651) 220-6258

Personal Biography
Dr. Wexler is a pediatrician and sleep medicine specialist. He attended medical school at the University of Minnesota and also completed his pediatric training at the University of Minnesota and Children's hospital and clinics of Minnesota. Dr. Wexler has interest in all sleep disorders and challenges. He is a native Minnesotan and enjoys spending time with his wife and four children.