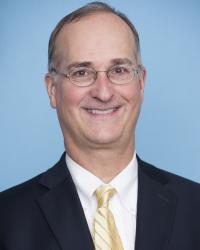 Matthew Scott Griebie, MD
Physician
(612) 871-1144
Specialties: Otolaryngology | ENT, Otolaryngology
Professional History
Board Certification
Otolaryngology - American Board of Otolaryngology

Medical Education
MD - University of Minnesota Medical School
Minneapolis
1982

Residency/Fellowship
Residency - University of Minnesota Medical Center
Minneapolis

Contact Information
Primary Location:
Ear Nose Throat Specialty Care
2211 Park AVE
Minneapolis, MN 55404
(612) 871-1144

Secondary Location(s):
Ear Nose Throat Specialty Care
Ridgeview Medical Building
303 E Nicollet BLVD
Burnsville, MN 55337
(952) 435-3050

Ear Nose Throat Specialty Care
Grove Health Building
9550 Upland LN N
Maple Grove, MN 55369
(763) 420-4811

Ear Nose Throat Specialty Care
West Health
2805 Campus DR STE 205
Plymouth, MN 55441
(763) 553-0695

Personal Biography
Dr. Griebie has a special interest in hearing, which is so vital to our ability to communicate. The treatment and prevention of hearing loss includes both medical and surgical therapy for infection, trauma, congenital hearing loss or familial conditions that may predispose to hearing problems as well as tumors that involve the ear and temporal bone. He especially enjoys seeing children with the purpose of preventing hearing loss and assisitng in their communication needs. Dr. Griebie works provides care at the Ear, Nose and Throat Specialty Care Clinic in Maple Grove.