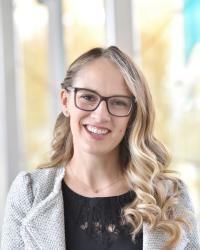 Nicole A. Anderson, LP PhD
Psychologist
(612) 813-6224
Specialties: Neuropsychology | Psychology, Child
Professional History
Professional Education
PhD - Loyola University
Chicago, IL
2016

Residency/Fellowship
Fellowship - University of Minnesota
Minneapolis, MN

Contact Information
Primary Location:
Childrens Minnesota Psychological Services
2545 Chicago AVE S STE 217
Minneapolis, MN 55404
(612)813-6224

Personal Biography
Dr. Anderson is a Pediatric Neuropsychologist at Children's Minnesota. She received her PhD in clinical psychology from Loyola University Chicago in 2016. After completing her clinical psychology internship at Childrens Minnesota, she completed a two-year fellowship in pediatric neuropsychology at University of Minnesota Medical School. Dr. Anderson provides neuropsychological and neurodevelopmental evaluations for infants, children, adolescents, and young adults with a range of medical, neurodevelopmental, and neuropsychiatric conditions. More specifically, Dr. Anderson has developed particular interests in evaluations examining acquired neurological dysfunction (e.g., brain injury, late effects of cancer treatments, prenatal exposure to toxic substances), genetic conditions, and the impact of adverse childhood experiences on neurodevelopment. She also has specialized training in conducting early childhood neurodevelopmental evaluations for children with complex medical histories (e.g., prematurity, early childhood cancers, congenital heart problems, genetic disorders). Broadly, Dr. Anderson aims to integrate neuropsychological testing data with parent, teacher, medical, and educational information to understand each patient's unique strengths and areas of difficulty, and provide targeted recommendations. Dr. Anderson is a member of the American Academy of Clinical Neuropsychology, and the American Psychological Association: Division 40 (Clinical Neuropsychology) and Division 53 (Clinical Child and Adolescent Psychology).