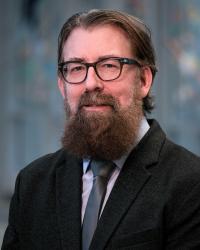 Kenneth K. Maslonka, MD
Physician
(612) 813-3300
Specialties: Critical Care, Pediatric
Professional History
Board Certification
American Board of Pediatrics

Medical Education
MD - Creighton University School of Medicine
Omaha
1989

Residency/Fellowship
Residency - University of Minnesota Medical School
Minneapolis

Fellowship - University of Minnesota Medical School
Minneapolis

Contact Information
Primary Location:
Childrens Respiratory and Critical Care Specialists
2530 Chicago AVE S STE 400
Minneapolis, MN 55404
(612) 813-3300

Secondary Location(s):
Childrens Minnesota Surgical PICU Medical Director
2525 Chicago AVE S STE 32-1960
Minneapolis, MN 55404
(612) 813-3300

Personal Biography
Dr. Maslonka graduated from Wayne State College in Wayne, Nebraska with degrees in chemistry and biology. He earned his medical degree from Creighton University School of Medicine in Omaha, Nebraska. He completed his pediatric training at the University of Minnesota, both in Pediatrics and Pediatric Critical Care Medicine. Following fellowship, he worked in the PICU at Children's Hospital of Austin (Texas), where he served as medical director of respiratory care. Dr. Maslonka has served at Children's Hospital of Minnesota as medical director of Respiratory Care from 2002 until 2006, and currently is medical director of the PICU at Children's Hospital of Minnesota - Minneapolis. Special interests include the care of the chronically, critically ill patient, RSV disease in the PICU and a variety of patient safety issues associated with pediatric critical care. His past research activities have included partial liquid ventilation, and serving as site director of the Partial Liquid Ventilation trial in Austin, Texas. However, his passion remains at the patient's bedside, caring for the critically ill child and their families.