I read about an upcoming lecture at the Walker Art Center in Minneapolis that involves a discussion by a developmental psychologist who has worked with the Lego Corporation about the therapeutic benefits of play in childhood. It makes me think that we should do a better job in general of creating treatments for kids who don't have to seem so much like "therapy" or "medicine," but rather that seem like fun.
Toy and media companies like Nintendo, Sony, Microsoft and Apple have certainly figured out how get kids to play with their products, but few of them have designed products with therapeutic benefits.  Helping kids to get healthy, physically fit and lose weight is a good example of a challenging area where we could use some multimedia, fun treatments. Although the American Academy of Pediatrics and other groups have come up with some excellent information about the prevention, assessment and treatment of obesity, it all seems a bit "dry" to me in terms of actual day-to-day practice.
Also, beyond physical activity and nutrition changes, addressing the mood, self-esteem and stress issues that often plaque overweight kids is of critical importance. I struggle with finding ways to help kids and teens feel motivated, interested and excited enough to want to follow through and change. There is hope — a relatively low-tech approach that was successful in helping kids lose weight in a recent study involved simply having overweight kids read a fictional story about another kid who was struggling with obesity.
Products like Nintendo's Wii Fit are a good start. It would be pretty amazing if more toy companies turned some attention to creating "therapeutic toys" — toys and activities with a defined therapeutic benefit (stress management, weight loss, physical fitness, better sleep, etc.) that are designed so well that the kids don't even need to know about the therapeutic benefit. Clinicians would love this.
A few products and companies are trying to get there, but the road has been slow. Many kids experience "emotional overeating" because of stress. Here some products that begin to address exercise and stress for kids:
In our Integrative Medicine Program at Children's, we have worked with many kids with depression, anxiety, chronic pain, sleep problems and other medical concerns who are also overweight. We have emphasized playful, fun self-care activities as key components to treatment. These include training in relaxation, "eating for energy," meditation, acupressure and aromatherapy as adjuncts to core treatments involving nutrition and activity changes. We created a cookbook for kids called "Chowkids," on healthy cooking, shopping tips and healthy recipes (with local chef and restaurateur Brenda Langton of Spoonriver. My sense is that adding this well-rounded approach addressing the emotional aspects of obesity, promoting a sense of participation (and fun) in treatment choices and emphasizing elements of  challenge, curiosity, control and mastery with kids has been really helpful. These same qualities are found in well-designed toys and video games.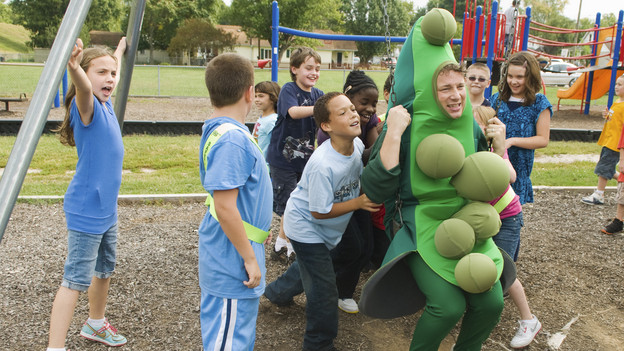 On the TV show "Jamie Oliver's Food Revolution," the chef helps schoolkids get healthier by changing the eating habits of an entire town. The show captures the imagination and is an example of a successful, fun approach to changing lifestyles.
With all the talents, resources, advertising, creative thinking and technology we expend worldwide on developing toys, electronic games, and related media for kids, it would be pretty amazing if a significant part of those industries were refocused on "therapeutic play" activities. Designing really cool, multimedia treatments for obesity that would better motivate and engage kids is possible. Perhaps it is time for kids, parents, child health professionals and toy companies to get together and talk this over.
What do you think we can do to prevent childhood obesity? What "therapeutic play" toys and activities would help your family?
Tim Culbert, MD
Dr. Tim Culbert is the medical director of Children's Integrative Medicine program. Read more about him in his first post to the Kids' Health blog.