May also be called: Calculi; Nephrolithiasis
Kidney stones are small, solid masses that form in the urinary tract. Kidney stones are caused by the build-up of substances normally found in urine (pee), like salts and calcium.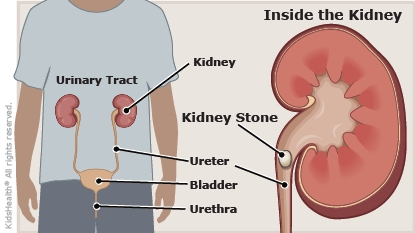 More to Know
When substances normally found in urine become extra concentrated, they can form crystals in the kidneys. These crystals can build up to become stones over a few weeks or months.
Small kidney stones can pass through the urinary tract and out of the body with little or no pain, but larger stones can be quite painful, block the flow of urine, and cause blood in the urine and other symptoms. In some cases, kidney stones can lead to problems with the kidneys and urinary tract. Most kidney stones, however, cause no permanent damage.
Keep in Mind
Kidney stones are fairly common. There are different types of kidney stones with many different causes. Treatment depends on the type and size of the stones.
All A to Z dictionary entries are regularly reviewed by KidsHealth medical experts.
Note: All information is for educational purposes only. For specific medical advice, diagnoses, and treatment, consult your doctor.
© 1995-2023 KidsHealth ® All rights reserved. Images provided by iStock, Getty Images, Corbis, Veer, Science Photo Library, Science Source Images, Shutterstock, and Clipart.com