May also be called: Low Back Pain; Lumbodynia
Lumbago (lum-BAY-go) is stiffness and pain in the lower back that is usually caused by a muscle strain or sprain.
More to Know
The backbone (spine) is made up of small bones called vertebrae that are stacked on top of one another. In between the vertebrae are soft spinal discs that act as shock absorbers for the spine. Lumbago can be caused by lifting heavy objects, sitting in one position for too long, straining the back muscles during a sport or activity, a back injury, damage to one of the spinal discs, or some medical conditions. Often, though, lumbago has no specific cause.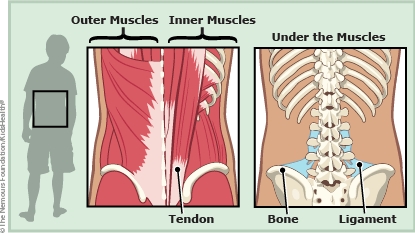 Lumbago can be mild or so severe that it makes moving difficult. It can also come on suddenly or gradually. Lumbago is usually treated by staying active and taking short-term medications to control pain. Only in very rare cases is surgery required.
Keep in Mind
In most cases, lumbago will go away on its own within a few weeks. Stretching before and after physical activities, getting regular low-impact exercise, maintaining a healthy weight, and avoiding heavy lifting can help prevent lower back pain. Talk to your doctor about back pain, especially if it is not going away or is associated with other symptoms.
All A to Z dictionary entries are regularly reviewed by KidsHealth medical experts.
Note: All information is for educational purposes only. For specific medical advice, diagnoses, and treatment, consult your doctor.
© 1995-2023 KidsHealth ® All rights reserved. Images provided by iStock, Getty Images, Corbis, Veer, Science Photo Library, Science Source Images, Shutterstock, and Clipart.com