We're proud to be taking part in the Society for Maternal-Fetal Medicine's (SMFM) Annual Pregnancy Meeting.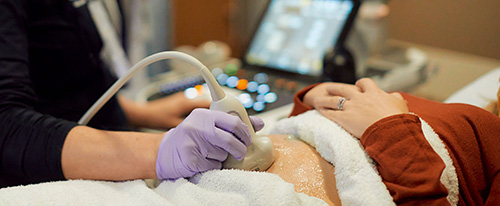 Make a fetal care referral
Schedule a virtual visit
If you would like to schedule a virtual visit to meet with Dr. Saul Snowise, Medical Director Fetal Care, and Jackie Gilbertson, RN, Professional Relations Liaison:
Jackie Gilbertson, RN
Professional Relations Liaison
About the Midwest Fetal Care Center
The Midwest Fetal Care Center (MWFCC), a collaboration between Allina Health and Children's Minnesota, brings together a multidisciplinary team of highly trained maternal-fetal medicine experts from Allina Health, and pediatric and neonatal specialists from Children's Minnesota. Open since 2008, the MWFCC is a national referral center and regional leader in fetal diagnosis, fetal intervention and comprehensive fetal care for unborn babies with abnormalities.
The center was started to meet local need and has quickly grown into a national center with world-class outcomes. Between Jan. 1, 2015 and Aug. 31, 2020, MWFCC has evaluated 6,623 cases and performed more than 280 total fetal procedures.
Patient stories and outcomes
Twin-twin transfusion syndrome (TTTS)
Fetal pericardial teratoma
Conjoined twins stories and video
Rare open fetal tumor removal
Publications by Midwest Fetal Care Center clinicians
Sign up for our giveaway
The first 50 entrants in the giveaway will receive a Midwest Fetal Care Center bundle, which includes a water bottle, ice pack and pen.
Sign up for the Clinician Digest
You can count on the Clinician Digest for timely news and events from Children's Minnesota. You'll get the latest on new clinicians, service highlights, and helpful tips to navigate our health system.