The nation's first of its kind pediatric intraoperative MRI neurosurgery suite opens in Minneapolis
Children's Minnesota is thrilled to announce it is the first health system in North America opening a pediatric hybrid intraoperative magnetic resonance imaging (iMRI) suite equipped with both moving-scanner and moving-patient MRI technology in the same surgical space.
Located inside our Minneapolis hospital, The Richard M. Schulze Family Foundation iMRI Surgical Suite is a 2,970 square-foot facility used by Children's Minnesota's neurosciences program and radiology department. Experts will perform both brain and total spine scans mid-procedure for surgeries to treat brain tumors, epilepsy, traumatic injuries and more directly at the point of care.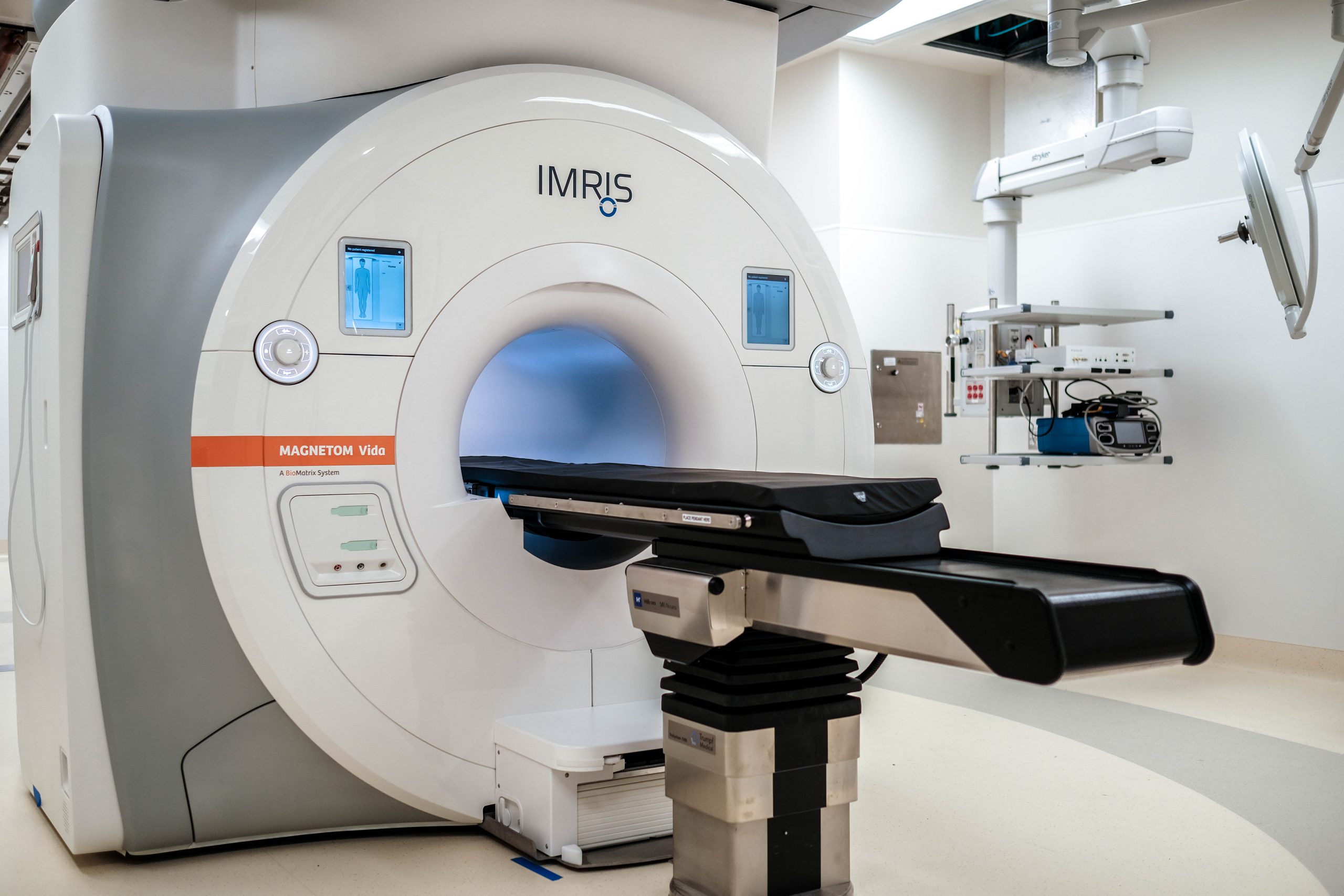 "The Schulze Family Foundation iMRI suite will enhance how we make important decisions at the point of care before a patient's incision is closed," said Dr. Meysam Kebriaei "This crucial process will help prevent additional procedures for many of our patients and maximize their chances for a good outcome."
The Richard M. Schulze Family Foundation donated $4 million to the health system's new pediatric hybrid iMRI neurosurgery suite.
In addition to their multi-million-dollar gift, they've challenged our community to raise $1.5 million dollars to advance the support of Children's Minnesota's iMRI suite and neurosciences programs even further.
That's right, if we raise $1.5 million dollars together, it will be matched by the Richard M. Schulze Family Foundation. Make twice the impact, give now. 
Give Now
Your donation, no matter the size, makes a big difference.
Expertise in pediatric neurosurgery for still-developing brains
Backed by the largest team of pediatric neurosurgeons and the most sophisticated technology, Children's Minnesota cares for far more kids than any other program in the region.
Children's Minnesota is verified as a Level I Children's Surgery Center by the American College of Surgeons (ACS) Children's Surgery Verification Quality Improvement Program. Achieving Level I verification is the highest level of distinction for health systems that perform complex surgical procedures in newborns, children and teens.
Combining experience and innovation for better outcomes
We perform hundreds of surgeries each year on kids of all ages, from toddlers to teens to babies still in the womb. While pediatric neurosurgery is never routine — especially when it's your child — Children's Minnesota combines surgical experience with sophisticated capabilities and a support team of hundreds to improve outcomes.
What sets Children's Minnesota apart in pediatric neurosurgery
When it comes to finding medical care for your child – especially when the brain and spinal cord are involved – trust is everything. We at Children's Minnesota do all we can to earn your trust, with genuine, compassionate care, smart doctors and nurses, and the best-equipped program in the region.
Why give to Children's Minnesota?
What is Children's Minnesota?
Children's Minnesota is an independent, not-for-profit health care system. We've been serving the community since 1924. Along with our two free-standing hospitals (one in Minneapolis and one in St. Paul), we have nine primary and specialty clinics and six rehabilitation clinics.
We care for over 135,000 kids each year and are the seventh largest pediatric health system in the country. We're the only health system in Minnesota to provide care exclusively to children, from birth through young adulthood.
Is Children's Minnesota a nonprofit?
Yes. Children's Minnesota is a not-for-profit, charitable organization with 501(c)(3) designation from the IRS. That means we reinvest any profits back into the organization so we can keep improving care for our patients.
What is Children's Minnesota doing to advance health care?
Everything we can. Research is one of the most important areas of focus for us, and we're constantly looking for innovations that are completely kid- and family-focused. From improving day-to-day quality of life for children and teens to adopting cutting-edge technologies, we will never stop looking for better ways to serve kids.
We're proud of the recognition we receive for advancing health care. Children's Minnesota and its staff are regularly awarded for excellence in care, quality, innovation and industry leadership. We are an award-winning health system, regularly ranked by U.S. News & World Report as a top children's hospital.
What makes Children's Minnesota unique?
Caring for kids involves more than expert medical care.
Whether it's a child life specialist at the bedside to calm nerves, music therapy to boost mobility or interpreter services for non-English-speaking families, child and family services helps ease the fears, anxiety and stress of being in the hospital. We provide a continuum of support, information, education, comfort and connection to help patients and families navigate and actively participate in their health care experiences.
This attention to detail, comfort and care is not found at every health care facility. It's only available at Children's Minnesota because of generous support from donors. These programs are not reimbursed by insurance and don't show up on a patient's bill.
Why does a hospital need my donation?
We never turn a child away. Ever. Thanks to donations, all patients and families have access to the best physicians, treatments and wrap-around services, regardless of their ability to pay for care.
Forty-seven percent of our patients rely on Medicaid, which reimburses only 70 cents for every $1 of service. Because of this, Children's Minnesota makes up the difference. We need to underwrite nearly $90 million of unreimbursed care each year.
How are donations used?
At Children's Minnesota, your donation is spent on the kids and families we serve. As an independent, nonprofit health care system, philanthropic support allows us to reinvest in our organization and continue to improve and reimagine health care. To find out more about how our funds were used in 2020, check out Children's Minnesota's Annual Report (opens in new tab).