Doing good while having fun
Children's Minnesota hosts a variety of events throughout the year, from galas to golf tournaments to community fundraisers organized by dedicated supporters, all raising much-needed funds for our innovative care.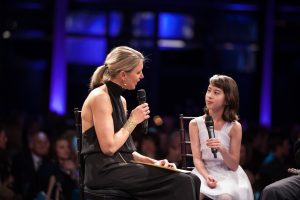 Signature events
Star Gala
As one of the premier events in the Twin Cities, the Children's Minnesota Star Gala is not to be missed. Guests will enjoy an interactive experience including a raffle and silent auction along with a cocktail hour, followed by a formal dinner featuring inspiring stories from Children's Minnesota.
Learn more about how you can be involved in this event.
Children's Minnesota Golf Benefit
Join us for the 32nd Annual Children's Minnesota Golf Benefit in June 2023! This signature event supports the Family Needs Fund at Children's Minnesota.
Space is limited. Learn more here.
Interested in volunteering with us?
Children's Minnesota relies on our volunteers to help us successfully host our annual signature events. With a variety of events to choose from, we offer volunteers several ways to get involved.
For more information about volunteering at a Children's Minnesota event, contact the Benefit Events team at 952-992-5500.
Give Now
Help us raise 'em up. Children's Minnesota is building a better future for all kids — but we can't do it without you. Please give today. So every child can reach their best health.