We are Children's Minnesota

Annual Report 2022
We had a lot to be proud of in 2022. We reached some major milestones, and we met some major challenges. Through it all, our kid experts went above and beyond, providing outstanding care for children in our community."
Marc H. Gorelick, MD, MSCE
President and Chief Executive Officer
Children's Minnesota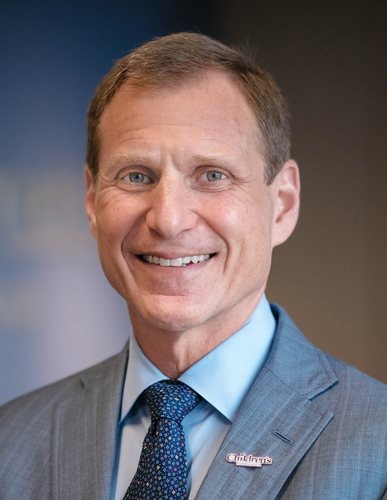 Numbers and news
Our 2022 numbers are a brief glimpse of the big impact Children's Minnesota has on our community. From patient visits to surgeries completed to volunteer hours, these stats convey the cumulative effect our kid experts had in 2022 working with, and for, our patients and their families. 
*doesn't include primary care patients
21,257
Surgical procedures
92,163
Emergency department visits
One of the largest freestanding pediatric health systems in the United States, Children's Minnesota has two hospitals, nine primary care clinics, six rehabilitation sites and nine specialty care sites.
381,810
Outpatient clinic visits
20,162



Hours of volunteer service
The following services would not be provided without the generosity of donors:
8,804
Families served by the amenities cart
6,674
Books gifted to families
40,320
Meal vouchers distributed
27,062
Child life encounters
4,943
PAWH pet therapy encounters
2,128
Star Studio calls from patient rooms
We care for kids from across the Upper Midwest, drawing patients from Minnesota, Wisconsin, Iowa, North Dakota, South Dakota and beyond.
Children's Minnesota patients by county
96,204-240,509
48,102-96,203
4,810-48,101
481-4,809
3-480
No patient encounters
Contributions to community benefit*
In millions
Unreimbursed costs of serving Medicaid patients
$138.6
Subsidized health programs
$17.9
Community health improvement services
$10.7
Health professions education
$5.3
Research
$2.0
Charitable patient care
$1.1
Total community benefit
$

175.7
*These figures are from 2021; 2022 figures will be reported in the 2023 annual report
Children's Minnesota "angels" help TJ with a new heart
Children's Minnesota cares for more pediatric heart patients than anyone else in the state. Our kid experts have performed 12 heart transplants since 2018. In July 2022, our heart transplant team helped 17-year-old TJ get a new heart. TJ had a rare condition called restrictive cardiomyopathy. His surgery was successful, and TJ's recovery has been going well. He was discharged and back at home with his family 10 days after receiving his new heart. His mom, Aleshia, credits TJ's entire care team with the transplant's excellent results. "(They're) angels in the operating room," Aleshia said. "I can't thank them enough." 
Baby Stella makes history
The Midwest Fetal Care Center (MWFCC), a collaboration between Allina Health and Children's Minnesota, provides the most advanced, comprehensive medical care for babies and mothers. Kinzie and Jeffrey learned this firsthand when MWFCC surgeons and experts from the Children's Minnesota Neurosurgery Program performed a fetoscopic Myelomeningocele (MMC) procedure on their baby, Stella, while she was still in Kinzie's uterus. The surgery was the first of its kind in Minnesota, using "micro" surgical instruments to repair Stella's spina bifida. In October 2022, Stella celebrated her second birthday. "This surgery is definitely a miracle," Kinzie said.
Unique program gives precious time to preemie and his
terminally ill
dad
The Children's Minnesota Neonatology Program has been part of some of the most important discoveries in neonatal care. For baby Finn and his dad, it gave them precious time together. Born premature, Finn was living in the NICU. His dad Rob was fighting pancreatic cancer and was too sick to visit. But thanks to the The Kid Experts™ At Home monitoring program, Finn was discharged from the NICU sooner, and received monitoring and expert virtual care at home. Finn and Rob were together for almost four weeks. "Finn got to be home with his dad before he died," said Finn's mom, Amanda. "I can't quantify the value of that." 
Meeting young people's mental health needs
The 2022 Minnesota Student Survey uncovered sobering news: unprecedented numbers of young people are struggling with their mental health. In 2021, Children's Minnesota saw a 30% rise in children experiencing suicidal ideation. To meet the growing need for mental health care, in 2022 Children's Minnesota significantly expanded services by opening an inpatient mental health unit at our St. Paul hospital that can serve as many as 1,000 kids a year. The inpatient unit complements existing offerings, including outpatient units in Lakeville and Roseville. Children's Minnesota now offers a continuum of mental health care to serve kids with a range of needs. 
Award-winning pediatric care
Children's Minnesota received national and local honors in 2022. Our kid experts earned the top score in the Human Rights Campaign Foundation's Healthcare Equality Index, for the first time becoming an "LGBTQ+ Healthcare Equality Leader." The Mayo Clinic – Children's Minnesota Cardiovascular Collaborative ranked as a Best Children's Hospital for 2022-2023 by U.S. News & World Report in cardiology and heart surgery. These programs were also ranked in the top 50: pulmonology and lung surgery, and nephrology, a joint program with Masonic Children's Hospital. U.S. News also designated all three Mother Baby Centers (a partnership between Allina Health and Children's Minnesota) as High Performing Hospitals for Maternity Care. Locally, Twin Cities Business named Children's Minnesota a top hospital for children and Mpls.St.Paul Magazine recognized 173 of our physicians as "Top Doctors."
Neli
Cancer and Blood Disorders, Cardiovascular
Neli had already fought two kinds of leukemia when she learned of a new health challenge: she would need a heart transplant. A few weeks after celebrating her quinceañera, the traditional Mexican celebration for a girl's 15th birthday, Neli got the call that would save her life. Children's Minnesota surgeons were ready to give her a new heart. A year after her heart transplant, Neli's energy has returned and there are no signs of complications. Our kid experts will continue to see Neli for years to come, helping her to thrive into adulthood. 
Hudson
Neurosciences
Two-year-old Hudson was having up to 50 seizures a day and medication wasn't working. Luckily, he lives close to world-class care. Children's Minnesota and Minnesota Epilepsy Group make up a Level 4 epilepsy center, offering the highest level of diagnosis and treatment for kids with epilepsy. Doctors discovered Hudson has a rare genetic disease called tuberous sclerosis complex and would need complex brain surgery. Immediately after surgery in the fall of 2022, Hudson's parents noticed positive change in his learning and development. "We're seeing huge improvements," said his mom, Melissa. 
Alyssa
Cardiovascular
Alyssa's parents wanted the best care for their daughter when they learned, shortly after she was born, that she had Down syndrome as well as a heart defect. They found the care they were searching for at Children's Minnesota. After two heart surgeries, Alyssa is now a healthy 6-year-old who shares her dad's love of music. Jesse even released an album of songs focusing on Alyssa's health challenges. "I wrote a song about Alyssa's birth; it's a really sad song," Jesse said. "I wanted people to know the whole story though because the end is really great." 
Flin
Cancer and Blood Disorders
Flin's battle against a rare and aggressive form of kidney cancer will hopefully help other kids. Flin was the first Children's Minnesota patient to undergo a clinical trial for Wilms tumor. It involved surgery, 44 weeks of chemotherapy and radiation, and six hospital stays at Children's Minnesota. Flin's mom Jen says Flin's can-do attitude, playing with his little brother Sully and building friendships with Children's Minnesota staff all helped him power through the tough times. "Children's was his second home over the last year," Jen said. "We are forever grateful for the care provided to him as well as us."

Donor listing
As a charitable organization, Children's Minnesota relies on financial donations to help us improve kids' health and enhance the patient care experience. We are deeply grateful to all our donors. Their passion and commitment help us provide the very best for kids.
Donors make Children's Minnesota the vibrant health system it is today. Thank you to our incredible community of donors who support all kids and families who come here for care. Because of you, no child is turned away, regardless of a family's ability to pay." 
Jennifer L. Soderholm
SVP and Chief Development Officer
President, Children's Minnesota Foundation
The lists below recognize our donors from 2022 and highlight just a few of the thousands of generous contributors who show their support each year.
+ Cumulative Lifetime Giving Donors
+ Circles of Giving Donors
United Health Foundation supports underserved youth
The United Health Foundation and Children's Minnesota are embarking on a three-year, $3 million grant partnership to address pediatric disparities related to asthma, vaccinations and mental health for underserved children in the Twin Cities. The programming includes culturally responsive health interventions. It will be developed with Children's Minnesota's Collective for Community Health, which is focused on improving community health and advancing health equity.  
"Together with Children's Minnesota and other community partners, the United Health Foundation is committed to reducing health disparities, increasing access to care and improving outcomes for underserved children and their families," said Victor Fields, chief executive officer of UnitedHealthcare Community Plan of Minnesota. "We are honored to partner with Children's Minnesota to address the essential health care needs of families in our communities." 
Richard M. Schulze Family Foundation leads the way to innovative neurosurgical suite
The Richard M. Schulze Family Foundation's $4 million leadership gift helped Children's Minnesota open the first three-room pediatric neurosurgical suite in North America. The suite features an intraoperative magnetic resonance imaging (iMRI) machine which has both moving-scanner and moving-patient technology in the same surgical space. This innovation will dramatically improve surgical outcomes for the children we serve.  
"Our foundation is honored to support Children's Minnesota as they pioneer new ways — both technologically and clinically — to care for children across our region," said Mark Dienhart, president and CEO of the Richard M. Schulze Family Foundation. "Part of our foundation's mission is to strengthen and support effective initiatives in health care that benefit all; this iMRI suite is now an important part of our mission."  
Along with their initial $4 million donation, the Richard M. Schulze Family Foundation is sponsoring a $1.5 million matching challenge throughout 2023. If the community gives $1.5 million exclusively to this challenge, the Richard M. Schulze Family Foundation will match it, bringing the total to $7 million in support of the iMRI suite and the neurosciences program at Children's Minnesota. 
Frankenfields
' $1 million gift for in-patient mental health care
With a generous gift from Marissa and Greg Frankenfield's family foundation, Children's Minnesota opened its new inpatient mental health unit in November 2022, prepared to serve 1,000 kids annually from ages 6-18. Their gift was the first principal commitment to this initiative, part of a $10 million community effort toward a $40 million overall investment in the mental health program at Children's Minnesota. The Frankenfields are long-time supporters of Children's Minnesota, and Greg is a former member of the Children's Minnesota Foundation Board.  
"We've gone through our own mental health crisis in our family so we knew how it felt to kind of wander around, looking for a place for our children," Marissa said. The kids-first care at Children's Minnesota was inspired by parent advocates who questioned why parents could spend the night with children receiving care for cancer but not for mental health. 
The unit's design allows separate areas for children and adolescents, and is the only facility in the Upper Midwest that serves kids as young as 6 years old.  
The new unit provides specialized care in a healing, compassionate environment, with a design focused on natural light and calming, sensory-friendly spaces. The large private rooms were designed for a parent or guardian to stay overnight with their child, a feature not found in most pediatric mental health units. "These people have thought through everything," Greg noted at the unit opening.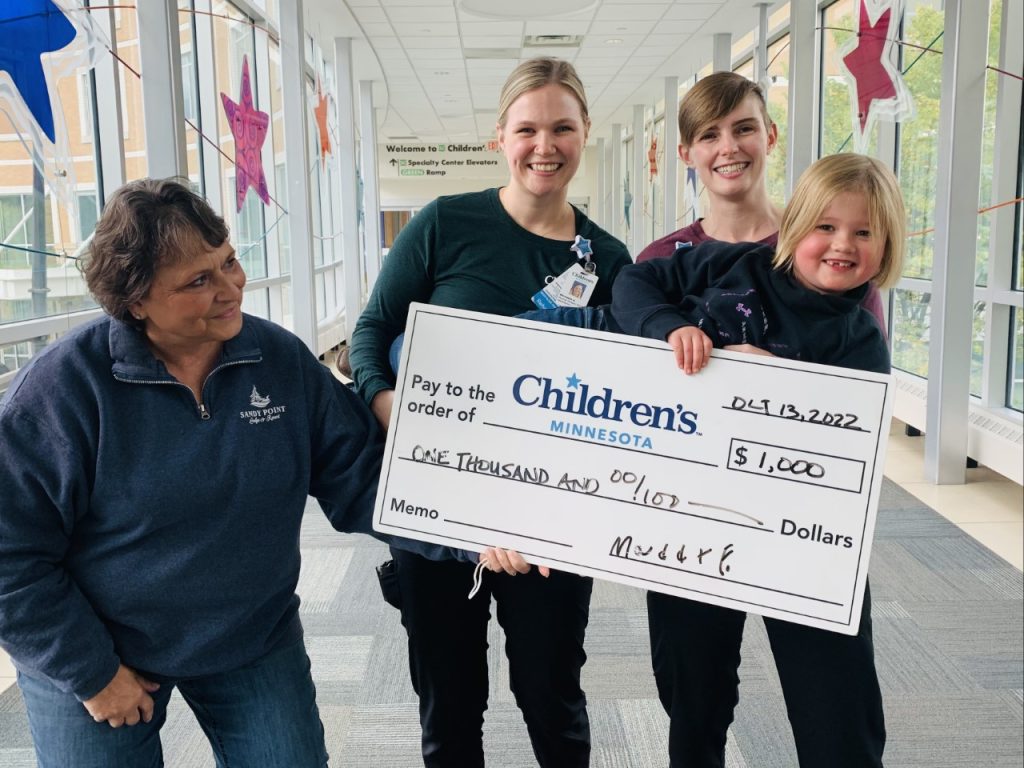 Maddy's family raises funds to support the caregiving she received
In 2021, Maddy was diagnosed with restrictive cardiomyopathy, a condition that made it harder for her heart to fill with blood between heartbeats. At first, Maddy was cared for at the Mayo Clinic in Rochester, where doctors initially determined she needed a heart transplant. After a couple weeks, the family asked for her to be transferred to Children's Minnesota to be closer to their home in Buffalo, Minnesota, and so Maddy could be cared for and treated at a hospital focused exclusively on kids.  
Maddy received a heart transplant at Children's Minnesota in August of 2022. When she got home, she and her family wanted to do something special for her physical therapy team, which made her feel special while she was getting care. Maddy's grandma held a garage sale to fundraise and they were able to donate $1,000 to help other kids just like Maddy.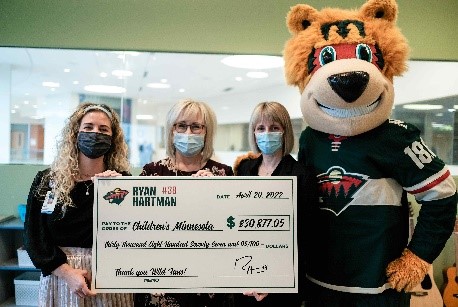 Minnesota Wild's Ryan Hartman inspires community giving
When Minnesota Wild player Ryan Hartman was fined for unsportsmanlike conduct for passionately defending a teammate, a fan found his Venmo account and began crowdfunding to cover the $4,250 fine. The star athlete responded by telling fans that he would pay the fine with his own money and donate all funds to Children's Minnesota, inspiring the community to do even more. More than $39,000 was raised for our Urgent Needs program, which covers meaningful activities like art therapy, patient birthday parties and support for families. Additionally, t-shirts made of the incident resulted in another $60,000 in donations.
Top corporate donors of 2022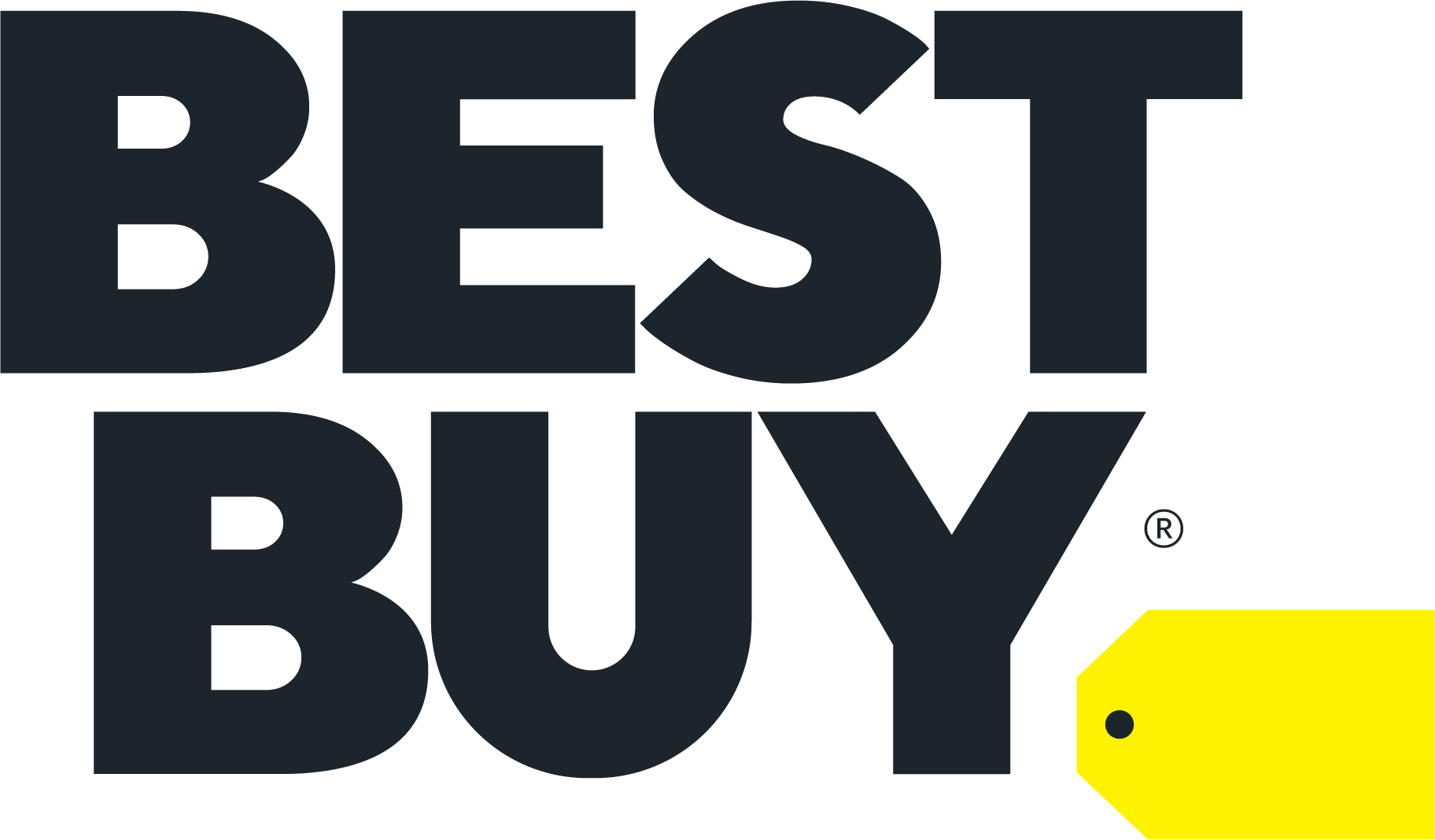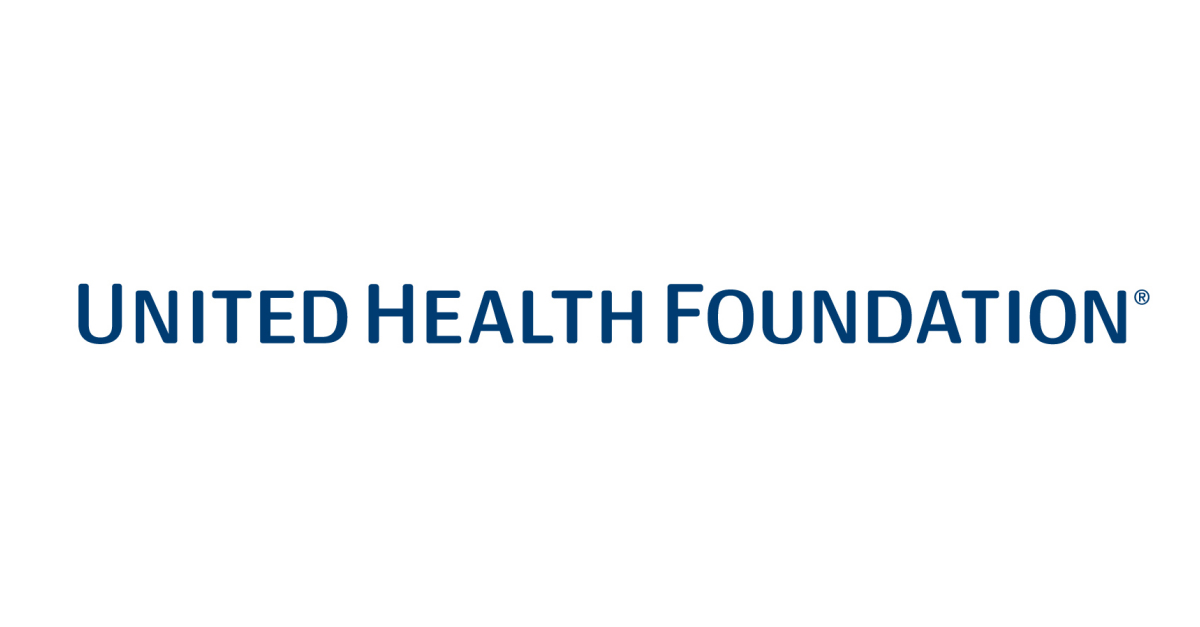 Support Children's Minnesota
Give Now
Help us raise 'em up. Children's Minnesota is building a better future for all kids — but we can't do it without you. Please give today. So every child can reach their best health.