Nursing Magnet® Recognition
Nursing excellence at Children's Minnesota
Children's Minnesota is proud to have a robust team of more than 2,000 exceptional nurses who care for each patient with unmatched compassion and expertise. Through patient- and family- centered care, our pediatric and neonatal nurses provide high quality care to children and their families across inpatient and ambulatory settings.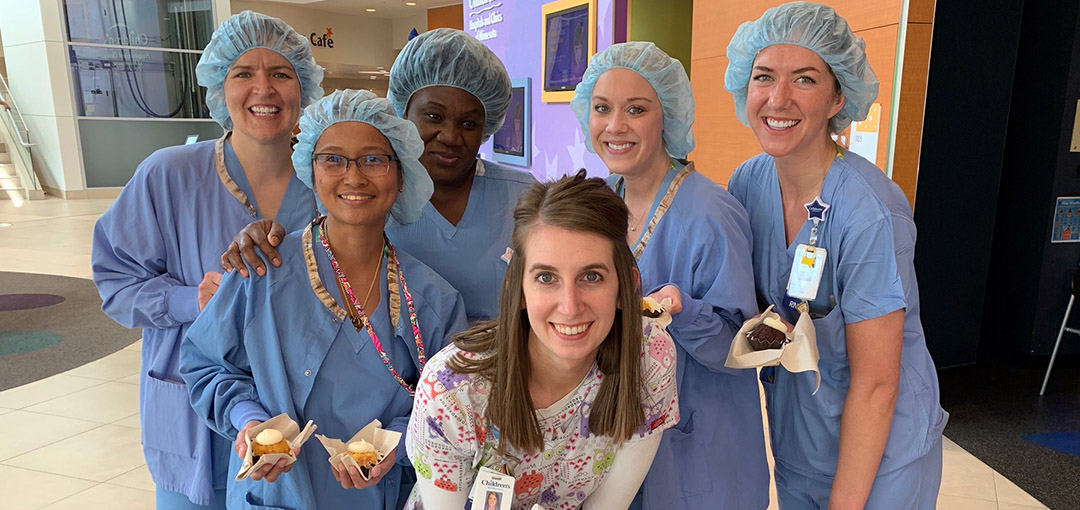 Magnet Recognition Program® designation
Excellence. Innovation. Teamwork. Passion. These are just some of the words nurses at Children's Minnesota use to describe what it takes to earn Magnet® recognition from the American Nurses Credentialing Center (ANCC). Considered the gold standard in nursing excellence, Magnet designation recognizes quality patient care, nursing excellence and innovations in professional nursing practice. Children's Minnesota received Magnet® recognition in 2018 and is the only free-standing pediatric health system in the state to claim this prestigious honor.
Children's Minnesota recognizes the contributions of nurses in many ways. Each year the nursing annual report highlights nurse-led initiatives and accomplishments throughout the organization.
About our nurses at Children's Minnesota
Children's Minnesota employs almost 2,000 nurses: 1500 RNs and 250 APRNs. More than 80%  have earned a baccalaureate degree or higher, and almost 40% of eligible RNs and APRNs hold a professional nursing certification.
Nurses of Color (NOC) Employee Resource Group (ERG)
The Nurses of Color (NOC) Employee Resource Group (ERG) is a newly formed, nurse-led effort to create a supportive space for nurses of color to grow in their career by sharing insights, experiences and knowledge. This group of employees is dedicated to reflecting the diversity of the families we serve and eliminating health disparities in the community.
Professional Practice Model
The Children's Minnesota REACH: Nursing Professional Practice Model describes how registered nurses practice, collaborate, communicate and develop professionally to provide the highest quality care for patients and families. REACH drives current and future nursing practice at Children's Minnesota.
Mentorship
Children's Minnesota offers a structured mentoring program designed to support every nurse from the newly graduated to those in advanced-practice and leadership positions. Mentor and mentee establish long-lasting supportive and encouraging relationships to guide professional, personal and interpersonal growth. Evidence demonstrates a three-fold benefit for the mentee, the mentor and the organization.
Transition to Practice program
Children's Minnesota offers a unique, two-year Transition to Practice program for newly graduated nurses through a welcoming environment. Enhanced support is provided to participants for the transition from academia to practice. The Transition to Practice Program at Children's Minnesota is accredited with distinction as a Practice Transition Program by the American Nurses Credentialing Center's Commission on Accreditation in Practice Transition Programs.
Shared governance
Shared Governance at Children's Minnesota consists of nursing councils at the system, community and unit levels. The shared decision-making approach supports the council's work in collaboration to address leadership, education, professional development, clinical practice, innovation and research. The structure enables clinical nurses to influence decisions affecting practice and to provide direction for the professional practice of nursing.
Recognition of Children's Minnesota
DAISY Award
As a DAISY Award Hospital Partner, Children's Minnesota is proud to recognize 12 nurses each year. Honorees personify Children's remarkable patient experiences and consistently demonstrate excellence through their extraordinary compassionate care and clinical expertise. They are recognized as outstanding role models in our nursing community.
March of Dimes
Jenne Hongosh, a Children's home care nurse, was honored with a 2019 March of Dimes Nurse of the Year award in the diversity and advocacy category. Hongosh stood out among colleagues for her dedication to personalizing care for her patients, in part by taking the time to learn about their unique backgrounds and experiences. This award is a way to say thank you and honor selflessness, dedication and passion for the profession of nursing.
Nurses Week
Nurses Week is an annual event devoted to highlighting the countless ways in which registered nurses work to improve health care each and every day.  Children's hosts an annual nursing professional development conference and presents individual awards for nurses based on the in the categories of advancing excellence, shared governance, partners in care, nursing care delivery, and The Children's Way Values.
Mpls.St.Paul Magazine Outstanding Nurses
Mpls.St.Paul Magazine Outstanding Nurses
In 2019, Martha Dugan, APRN, CNP, neonatal nurse practitioner, was honored with a Mpls.St.Paul Magazine Outstanding Nurses Award in the category of Lifetime Achievement. This award is given to an outstanding nurse with more than 25 years of experience since board certification.
U.S. News and World Report
U.S. News and World Report
U.S. News & World Report named Children's one of America's Best Children's Hospitals, ranking the pediatric system for four key specialty areas in its 2019-2020. Children's is among the top 50 facilities, ranking No. 38 in pulmonology, No. 42 in diabetes and endocrinology, No. 43 in neonatology, and No. 28 in the joint nephrology program in partnership with the Masonic Children's Hospital.
CLINICAL AWARDS AND HONORS
See the latest listing of recent honors, awards, presentations and published work by Children's Minnesota professional staff.
Ready to be a part of something amazing?