Finn's journey: a cutting-edge program at Children's Minnesota helps preterm babies go home sooner
It has been said countless times and in many different ways, but the true meaning of what's being said always remains the same – time is a gift. For Dr. Amanda Calvin, time is currently measured by naps, feedings and developmental milestones for her son, Finn. In 2021, time was measured differently for the Calvin family as they counted down until Finn came into the world. The excitement of welcoming their first son was also a time of mixed emotions for the Calvins – as Amanda's husband, Rob, battled pancreatic cancer.
"When we found out about Rob's diagnosis, he was given one year to live, so we decided to have a child," Amanda recalled.
Baby Finn was originally due on April 5, 2021. But, around Valentine's Day of that year, Amanda started having complications from a bleeding disorder she's had since birth.
"My condition had been flaring up with my pregnancy and getting worse to the point where I had to be admitted to the hospital," Amanda said.
With the pandemic still at its height – and especially in light of her and her husband's pre-existing conditions – Amanda had a virtual baby shower from her Minneapolis hospital room. There, she also dealt with another serious health concern called preeclampsia, a severe high blood pressure condition in pregnant women. The mom-to-be had a C-section procedure the day after her baby shower at The Mother Baby Center, a partnership between Allina Health and Children's Minnesota.
Finn's arrival
On Valentine's Day 2021, baby Finn entered the world roughly eight weeks early – weighing just 3 pounds and 13 ounces. Finn's care team rushed the newborn to the Neonatal Intensive Care Unit (NICU) at Children's Minnesota, and placed the tiny infant on a breathing machine. Finn would spend the next month splitting time between the NICU, and the special care nursery at Children's Minnesota's Minneapolis campus.
"I remember all of his care givers being the most compassionate people, they made sure I knew what was going on," Amanda – a physician specializing in pulmonary and critical care medicine with HealthPartners Park Nicollet – recalled. "I'm an ICU provider and my son was in the ICU. Vital signs for infants are completely different than vital signs for adults. I tried to shut out paying attention to that stuff, there was too much for me to process."
During the same time, Finn's dad, Rob, continued his brave fight with pancreatic cancer.
"Rob no longer responded to chemo and was about to transition to hospice, he was so sick he couldn't make it to the hospital," Amanda recalled.
Baby Finn goes home early
Finn was born nearly two full months before his due date, and during the height of the COVID-19 pandemic. Usually, preterm babies stay in the hospital with their care team until when they would have been full-term to grow, and also learn how to eat and breathe on their own. For Finn, a new program at Children's Minnesota called The Kid Experts™ At Home monitoring program allowed the preterm newborn to go home a month early. Finn continued to receive expert care and monitoring from Children's Minnesota's neonatology team remotely through a tablet. His mom used an app on the device to stay connected with his care team. Amanda also took over feeding Finn using a special feeding tube – all under the family's own roof.
"It ended up being a major blessing," Amanda said. "We were stretched thin going back and forth to the hospital. We were making it work. Without this program, we would not have had time together as a family at home in the place where we wanted to be."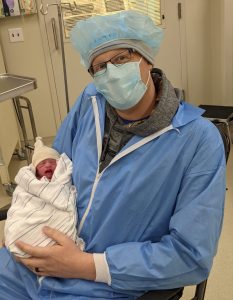 Finn came home on March 4, 2021, and graduated from the program a week later. Then, on March 31 – Finn's dad passed away at just 36 years old.
"Rob died six days before Finn's original due date. Finn got to be home with his dad before he died. I can't quantify the value of that," Amanda said while reflecting on her late husband.
The Kid Experts™ At Home monitoring program at Children's Minnesota
The Kid Experts™ At Home is the only resource of its kind in Minnesota. Preterm babies who qualify for the program have a nasogastric (NG) feeding tube inserted before heading home. Families are provided with a scale and a tablet equipped with an app which allows parents to input vitals that are then shared and monitored remotely by the baby's neonatal team. This care team trains enrolled families on proper NG and oral feeding techniques. Parents are also taught CPR before their preterm baby goes home.
"I got a call from a neonatologist every morning asking 'what questions do you have?' We had people on-call all the time," Amanda said. "Finn pulled his feeding tube out twice, and a care team member even came to our house to put it back in."
Among the qualifications for the program, a newborn must be a current Children's Minnesota NICU patient, be able to breathe without any respiratory or oxygen support, weigh more than four pounds, and consistently gain around 30 grams of bodyweight per day.
"Children's Minnesota will always strive to pioneer cutting-edge programs that continue to put our patients first, and keep families as part of their care team – the program accomplishes all of these goals," explained Dr. Cristina Miller, medical director of the NICU follow-up clinic at Children's Minnesota, and founder and director of The Kid Experts™ At Home. "Even though the babies who qualify for the program are home, their clinical care team still remains at their bedside virtually to ensure they are growing, healthy and thriving."
Baby Finn came into this world nearly two months early in February 2021, weighing 3 pounds and 13 ounces. One year later, he weighed 25 pounds at his first annual check-up – and he's now in the 90th percentile in weight for any child his age.
"He's doing great, he is a chunk these days," Amanda said with a smile. "I joke he gained the COVID 19 with the rest of us. He is a very happy baby."
Since Finn graduated from The Kid Experts™ At Home, Amanda says he's already walking and hitting other major developmental milestones. They're new memories she's making with her baby, as she reflects on the time she and her son had together with Finn's dad as a family.
"Everybody at Children's Minnesota went out of their way to make sure Finn was cared for – that we were heard, and they knew what we needed more than we did," Amanda said while holding back tears. "I can't thank those people enough, they gave us time we would have never had."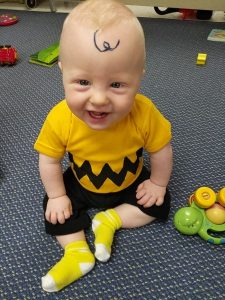 Watch the Calvin's story on WCCO