Neli's fighting spirit: a story of strength, unbreakable bonds and the power of advocacy.
Neli Sanchez is 16 years old. She loves art, dancing and listening to BTS. In many ways, she's a typical teenager — but her journey to this point has been anything but.
Neli has been part of the Children's Minnesota family for most of her life. We first met her at age 3, fighting a battle with acute myeloid leukemia (AML), a cancer that affects the bone marrow. We were with her through chemotherapy, radiation and more than one relapse.
Just a few months later, she came back to us with a different leukemia, ALL. The diagnosis was devastating news for Neli's family. "I didn't think she could handle more chemotherapy," remembers her mom, Ana.
But Neli did endure more treatments. Eventually she found her way to remission.
Years of close monitoring followed, with Neli seeing experts in not just oncology but also endocrinology, cardiovascular care and more.
Then in 2020, she contracted COVID-19. The infection — otherwise mild — had a catastrophic effect on her already vulnerable heart, weakened by years of chemotherapy.
She would need a transplant. After years of fighting cancer, Neli was facing an entirely new battle.
She spent more than a year on the waitlist for a donor heart. She lost strength and weight as the days passed. Her family prepared for the worst. Neli herself prepared for the worst.
Yet even amid extraordinary uncertainty, the family had reason to celebrate. In June 2021, Neli had her quinceañera, the traditional Mexican celebration for a girl's fifteenth birthday. Along with the customary dress for the occasion (which, her mom remembers, was difficult to get into because her daughter was so weak), Neli also wore the medical backpack through which she received the infusion medicine that kept her going.
A few weeks later, they got the call. They rushed to our Minneapolis hospital for heart transplant surgery.
It saved Neli's life.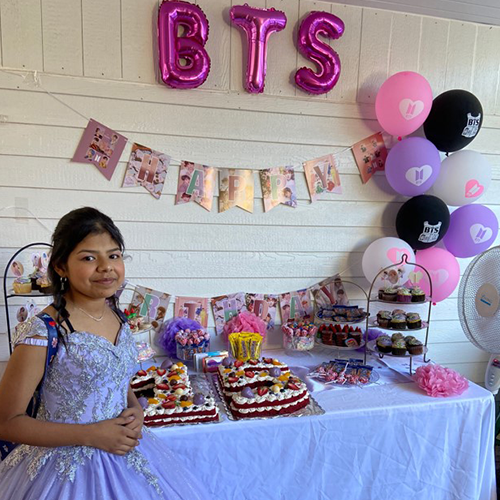 Her recovery has been steady. Little by little, she regained strength and weight. Her energy returned.
Today, more than a year after the transplant, there are no signs of rejection or complications. Neli attends high school and is active in Aztec dancing as a member of Kalpulli Yaocenoxtli, a cultural dance community in St. Paul.
She will continue to be seen by the cardiovascular and oncology teams for years to come, well into adulthood.
Members of that team have been constants throughout Neli's incredible journey: Dr. Yoav Messinger, her oncologist for a dozen years, who has been through all of her cancer battles, relapses and treatments; devoted nurses who've had a special bond with the little girl and remember spending "Neli bucks" at a make-believe store the girl set up in her hospital room; and patient advocate Patty Santos whose connection with the Spanish-speaking family extends well beyond her role as interpreter.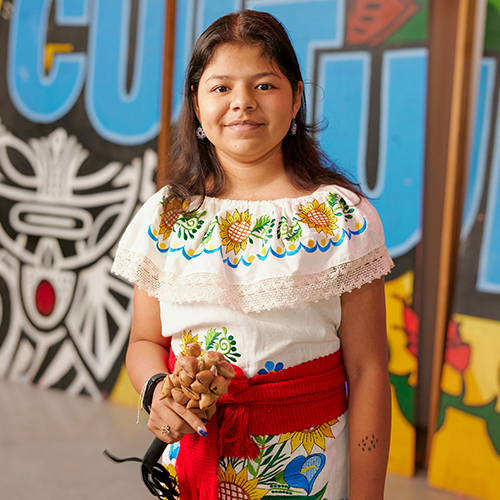 "Our families with limited English proficiency face challenges above and beyond just the language ability," Patty points out. "The biggest piece is to establish a relationship of trust with the family, to let them know that I will be walking with them in this journey along with their whole care team," she explains.
"It's about getting to know the family and reassuring them that they're in good hands."
Research shows that when bilingual care advocates are an integral part of the medical team, outcomes improve and patients report better overall experiences.
"I think if those interpreters weren't there for us to support us as Latinos, I don't know if we would know how to continue on," says Ana. "We came to Children's and it's like thousands of doors opened for me. And the most beautiful thing for me was finding people in my own language."
Ana and Neli have been through so much together. And their bond is unbreakable.
"My mom is my best friend, my supporter," says Neli.
"What can I tell you about my daughter? She's an angel for me," says Ana. "I think she's my motor to make me keep going. If she's good, I'm good. And as mothers, of course we get down, but our children are the ones who get us back up to keep fighting for them."
The family is an inspiration to her care team at Children's Minnesota.
"They're so special," shares Patty Santos. "I just think of Neli's courage through all of this. Never giving up. I draw so much inspiration from Ana, as a mother of four kids myself."
"Their story just shows the amazing resilience of a mother and a child," says Dr. Messinger, "and their ability to go with whatever life gives them." He continues, "They're truly our heroes."
Give Now
Your donation, no matter the size, makes a big difference.
Give to Children's Minnesota
When you donate to Children's Minnesota, you change lives forever. Like Neli's. We use gifts from people like you to fund everything from life-saving treatment and technologies to vital support services like interpreters, advocates, social workers and child life specialists. As a nonprofit, we rely on your donations to surround every child in our hospitals with the most extraordinary care: highly specialized, deeply compassionate, and designed to give families strength when they need it most. Donate now: www.childrensmn.org/changealife