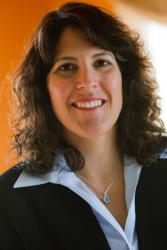 Julie Ann Chavez, DDS
Dentist
(952) 465-0105
Specialties: Oral and Maxillofacial Surgery | Dentistry, Oral and Maxillofacial Surgery | Surgery, Oral and Maxillofacial
Professional History
Board Certification
Oral and Maxillofacial Surgery - American Board of Oral and Maxillofacial Surgery

Medical Education
DDS - University of Washington School of Dentistry
Seattle, WA
1993

Residency/Fellowship
Residency - University of Minnesota Medical Center
Minneapolis, MN
2000

Residency - Denver Health
Denver, CO
1994

Contact Information
Primary Location:
Northern Star Oral and Maxillofacial Surgery
1660 Hwy 100 S STE 145
St Louis Park, MN 55416
(952)465-0105

Secondary Location(s):
Childrens Minnesota Craniofacial Center
2530 Chicago AVE S STE 450
Minneapolis, MN 55404
(612) 813-6888

Personal Biography
Before starting her own practice, Northern Star Oral and Maxillofacial Surgery PLLC, Dr. Chavez worked in a group practice from 2000 to 2008. She enjoys all aspects of oral and maxillofacial surgery and treating all age groups. She has special interests in orthognathic (reconstructive jaw) surgery, cleft palate rehabilitation, and dental implant surgery. Dr. Chavez has been on the Cleft Palate Team at both Children's Minnesota Clinic since 2004. She maintains hospital privileges at Methodist Hospital and Children's Hospital. She maintains trauma call responsibilities at Children's Minnesota. Dr. Chavez grew up in Golden, Colorado and attended the University of Colorado Boulder where she received a Bachelor of Arts. She then obtained a D.D.S. degree from the University of Washington in Seattle in 1993, and began her oral surgery training with an internship at the New York Hospital-Cornell Medical Center. She is a 2000 graduate of the Oral and Maxillofacial Surgery training program at the University of Minnesota. She is board certified and a member of the American Association of Oral and Maxillofacial Surgeons. Dr. Chavez also maintains membership in the Minnesota Dental Association, Minnesota Society or Oral and Maxillofacial Surgeons, the American Dental Association and the American Cleft Palate-Craniofacial Association. In her free time, Dr. Chavez enjoys spending time with her husband and their girls, and enjoys golfing, skiing and gardening.