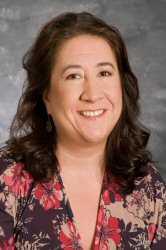 Tamara Christine Pozos, MD PhD
Physician
(612) 813-6777
Specialties: Immunology
Fluent Languages: Spanish
Professional History
Board Certification
Infectious Diseases, Pediatric - American Board of Pediatrics

Medical Education
MD - Stanford University School of Medicine
Stanford, CA
1998

PhD - Stanford University School of Medicine
Stanford, CA
1998

Residency/Fellowship
Residency - University of California San Francisco School of Medicine
San Francisco, CA
2002

Fellowship - University of Washington
Seattle, WA
2005

Contact Information
Primary Location:
Childrens Minnesota Infectious Disease Clinic
2530 Chicago Ave S STE 410
Minneapolis, MN 55404
(612) 813-6777

Secondary Location(s):
Childrens Minnesota Infectious Disease Clinic
347 N Smith Ave STE 300
St Paul, MN 55102
(612) 813-6777

Personal Biography
Dr. Pozos is a physician-scientist and pediatric clinical immunologist. Her hometown is Duluth, Minnesota and she graduated from Carleton College. She obtained her MD and PhD at Stanford University, completed pediatric residency training at UC San Francisco and pediatric infectious diseases fellowship training at Seattle Children's - all centers of excellence for basic and clinical immunology. In 2008, she joined the Pediatric Infectious Diseases and Immunology group at Children's Minnesota, with the primary goal to build an independent clinical immunology program. She has been active in the Clinical Immunology Society (CIS): attending the Summer School in 2008 and every annual meeting since, presenting at CIS meetings since 2011, and serving as a reviewer for the Journal of Clinical Immunology since 2013. She is appointed to the national CLSI Document Development Committee on Newborn Screening for SCID and Other Related Severe Immunodeficiencies. Since July 2018, she leads the independent Clinical Immunology department at Children's Minnesota as Medical Director. She lives in Minneapolis with her three-legged cat, Teo, and her husband, Jesús A. Cabrera, MD PhD.