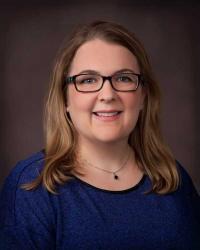 Rachel Nye Bies, MD
Physician
(952) 495-8910
Specialties: Pediatrics
Professional History
Medical Education
MD - University of Minnesota Medical School
Minneapolis, MN
2005

Residency/Fellowship
Residency - University of Minnesota Medical Center
Minneapolis, MN
2008

Contact Information
Primary Location:
Wayzata Childrens Clinic
4695 Shoreline Dr STE A
Spring Park, MN 55384
(952) 495-8910

Secondary Location(s):
Wayzata Childrens Clinic
111 Hundermark Rd STE 420
Chaska, MN 55318
(952)448-3847

Wayzata Childrens Clinic
916 St Peter Ave STE 120
Delano, MN 55328
(763) 230-2780

Wayzata Children's Clinic
9325 Upland Ln N STE 111
Maple Grove, MN 55369
(763)324-8000

Wayzata Childrens Clinic
14001 Ridgedale Dr STE 100
Minnetonka, MN 55305
(952) 473-0211

Personal Biography
Rachel is from Detroit Lakes, Minnesota, and graduated magna cum laude from St. Olaf College in 1999 with a Bachelor of Arts degree in Biology. While at St. Olaf, Dr. Bies was involved in cardiac physiology research, and after graduation moved to Atlanta, Georgia, to continue her research at Emory University. She returned to Minnesota for medical school, graduating from the University of Minnesota in 2005. Dr. Bies remained at the University for her pediatric residency training, and completed a year as chief resident. She is Board Certified in pediatrics, and joined the Wayzata Children's Clinic in 2009. Dr. Bies is currently our clinic's Medical Director. Her clinical interests include caring for medically complex children and the medical home model of care. Rachel and her husband live in Plymouth, and in her spare time she enjoys reading, relaxing at the lake, and connecting with family and friends.