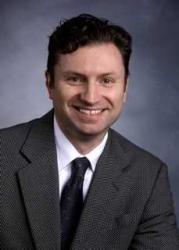 David Lawrence Basi, DMD
Dentist
(952) 465-0105
Specialties: Oral and Maxillofacial Surgery | Surgery, Oral and Maxillofacial | Dentistry, Oral and Maxillofacial Surgery
Professional History
Board Certification
Oral and Maxillofacial Surgery - American Board of Oral and Maxillofacial Surgery

Medical Education
DMD - University of Pittsburgh School of Dental Medicine
Pittsburgh, PA
1994

Residency/Fellowship
Residency - University of Minnesota School of Dentistry
Minneapolis, MN
2002

Contact Information
Primary Location:
Northern Star Oral and Maxillofacial Surgery
1660 Hwy 100 S STE 145
St Louis Park, MN 55416
952-465-0105

Secondary Location(s):
Boynton Health Services
410 Church St SE
Minneapolis, MN 55455
(612)625-0539

Personal Biography
Dr. Basi was part of the residency program in the Division of Oral and Maxillofacial surgery for 9 years. While at the University of Minnesota, He also ran a basic science laboratory focused on studying the effects of bisphosphonates and oral wound healing. His clinical interest includes complex implant reconstruction; and medically related osteonecrosis of the jaws. Dr. Basi left the University of Minnesota as a tenured Associate Professor in 2011 to join Northern Star Oral and Maxillofacial Surgery after the birth of his twin girls, Vivianne and Josephine. Dr. Basi grew up in Pittsburgh, Pennsylvania where he attended the University of Pittsburgh. He received a Bachelor of Science in Chemical Engineering in 1990 and His D.M.D. degree in 1994. In 2002, he graduated with his certificate in Oral and Maxillofacial Surgery and a Ph.D. in Oral Biology from the University of Minnesota. He is Board certified as an Oral and Maxillofacial Surgeon. He is active with organized dentistry at both national and local levels. Dr. Basi is a member of and has served on many committees for the American Association of Oral and Maxillofacial Surgeons. Locally, he has served a s President of the Minnesota Society of Oral and Maxillofacial Surgeons and a delegate for the Minnesota Dental Association. He also has been an Anesthesia Examiner for the Minnesota State Board of Dentistry. In his spare time, Dr. Basi is a closet pastry chef; loves to play golf and take pictures of his family.