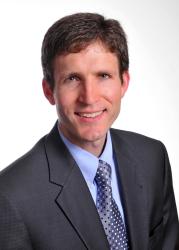 Michael Scott Floyd, MD
Physician
(651) 702-5868
Specialties: Ophthalmology, Pediatric
Professional History
Board Certification
Ophthalmology - American Board of Ophthalmology

Medical Education
MD - George Washington University School of Medicine and Health Sciences
Washington, DC
2006

Residency/Fellowship
Residency - University of Kansas Medical Center
Kansas City, KS
2010

Fellowship - University of Iowa Hospitals and Clinics
Iowa City, IA
2011

Contact Information
Primary Location:
HealthPartners Eye Clinic
8325 Seasons Pkwy STE 103
Woodbury, MN 55125
(651) 702-5868

Secondary Location(s):
HealthPartners
8600 Nicollet AVE S
Bloomington, MN 55420
(952) 541-2800

HealthPartners Specialty Center
401 Phalen Blvd MS 411041
St Paul, MN 55130
(651) 254-7500

Personal Biography
I chose to become a pediatric ophthalmologist because it is such an interesting specialty. I enjoy the opportunity to develop relationships with my patients and their families, to work with fascinating technologies and devices, and to perform procedures. Children are amazing to work with; they are generally happy, sweet and fun to be around. Each child is unique and each exam is different, but the "fun" of my job is to engage my patients and to earn their trust. Another reason I chose pediatric ophthalmology is because my son has an eye condition, and I was able to witness, first hand, how treatment can help a child see. He was legally blind in one eye and with glasses and a year's worth of full-time eye patching, he is now able to see perfectly. I am dedicated to my practice, family and community. I have served on the advisory committee for vision screening in St. Paul and Minneapolis. This program screens thousands of children each year; identifies children with ocular needs; and provides care, surgery and glasses as necessary. In addition, I am committed to the Boy Scouts of America and the development of the young men that live near me. I volunteer my time providing instruction for merit badges and in leadership roles at camps and activities. I also volunteer abroad and contribute my skill and knowledge as a pediatric ophthalmologist in Third World countries such as Haiti. Outside of my practice, I enjoy spending my free time with my family: cycling, snow skiing, water skiing, camping, hiking, smoking meats and barbequing, fishing, and building with Lego's.