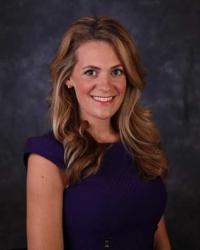 Lyndsay Francine Bates, DDS
Dentist
(651) 224-4969
Specialties: Dentistry, Pediatric
Professional History
Board Certification
Dentistry, Pediatric - American Board of Pediatric Dentistry

Medical Education
DDS - University of Maryland School of Dentistry
Baltimore, MD
2009

Professional Education
MS - University of Michigan School of Dentistry
Ann Arbor, MI
2011

Residency/Fellowship
Residency - University of Michigan School of Dentistry
Ann Arbor, MI
2011

Contact Information
Primary Location:
Metropolitan Pediatric Dental Associates
1021 Bandana Blvd E STE 121
St Paul, MN 55108
(651) 224-4969

Personal Biography
Dr. Lyndsay Bates grew up in Apple Valley, Minnesota and graduated from the University of Wisconsin, Madison with a B.S. in Chemistry with a focus in chemical education. After graduating she returned to Minnesota to teach various high school science classes at Eastview High School. Dr. Bates decided to pursue dentistry and earned her D.D.S. at the University of Maryland School of Dentistry. She continued her advanced academic endeavors at the University of Michigan where she earned a certificate and Master of Science degree in Pediatric Dentistry. Dr. Bates' research on Pediatric Dentists' Job Satisfaction was published in the Professional Journal of Pediatric Dentistry. Dr. Bates is a diplomat of the American Academy of Pediatric Dentistry. She is an active member of the American Dental Association, the Minnesota Dental Association, the American Academy of Pediatric Dentistry, and the Minnesota Academy of Pediatric Dentistry. She participates with Operation Smile, doing dental care for children in Vietnam, and volunteers annually at Give Kids A Smile. Dr. Bates resides in the Twin Cities with her husband, Andrew, their daughters, Lydia and Caroline. Outside of the office, Dr. Bates enjoys spending time with her friends and family, traveling, enjoying the outdoors, practicing yoga, and cooking.