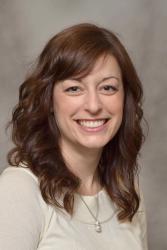 Katie Helen Willihnganz-Lawson, MD
Physician
(612) 813-8000
Specialties: Urology, Pediatric
Professional History
Board Certification
Urology - American Board of Urology

Urology, Pediatric - American Board of Urology

Medical Education
MD - University of Minnesota Medical School
Minneapolis, MN
2008

Residency/Fellowship
Residency - University of Minnesota Medical Center
Minneapolis, MN
2013

Residency - University of Minnesota Medical Center
Minneapolis, MN
2009

Fellowship - University of Washington
Seattle, WA
2015

Contact Information
Primary Location:
Pediatric Surgical Associates
2530 Chicago Ave S STE 550
Minneapolis, MN 55404
(612) 813-8000

Secondary Location(s):
Pediatric Surgical Associates
4530 West 77th St STE 205
Edina, MN 55435
(612) 813-8000

Pediatric Surgical Associates
6060 Clearwater Dr STE 110
Minnetonka, MN 55343
(612) 813-8000

Pediatric Surgical Associates
347 Smith Ave N STE 502
St Paul, MN 55102
(651)220-6040

Personal Biography
Katie Willihnganz-Lawson, MD grew up in Rochester, MN and attended medical school and completed her urology residency training at the University of Minnesota. She then completed her fellowship training in pediatric urology at the University of Washington and Seattle Children's Hospital. She is the sixth pediatric urologist at Pediatric Surgical Associates, Ltd. Dr. Willihnganz-Lawson enjoys all aspects of her pediatric urology practice and is especially interested in the genitourinary reconstruction, sex development, neurogenic bladder, and congenital anomalies of the urinary tract. She is also trained in minimally invasive robotic surgery. During her training she researched surgical outcomes for patients with bladder exstrophy, vascular anomalies, and disorders of sex development. She has also performed quality improvement projects to improve standardization of care and quality of life for pediatric urology patients. In both education and treatment, Dr. Willihnganz-Lawson uses a family-centered care model to engage her pediatric patients. She works in hospitals and clinics around the metro, and surrounding suburbs and also offers telemedicine consultations to reach families from all over the state.