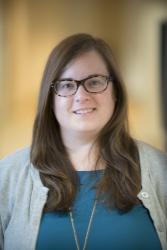 Courtney Blair Herring, MD
Physician
(612) 813-7155
Specialties: Pediatrics | Hospitalist
Professional History
Board Certification
Pediatrics - American Board of Pediatrics

Medical Education
MD - University of Alabama Huntsville
Huntsville, AL
2010

Professional Education
MD MHA - University of Minnesota School of Public Health
Minneapolis, MN
2020

Residency/Fellowship
Residency - University of Minnesota Department of Pediatrics BMT
Minneapolis, MN
2013

Contact Information
Primary Location:
Childrens Minnesota Hospitalist Program
2525 Chicago Ave S STE 32-1024
Minneapolis, MN 55404
(612) 813-7155

Personal Biography
Dr. Courtney Herring has been with Children's Minnesota since 2015 as a hospitalist at both Minneapolis and St. Paul campuses. She has been a part of departmental and organizational wide quality initiatives surrounding vascular access and utilization. She returned to the classroom to complete a Master of Healthcare Administration (MHA) degree from the University of Minnesota School of Public Health in 2019. Dr. Herring included the responsibilities of Medical-Surgical director of the St. Paul-campus in June 2019. She is most enthusiastic around operational management by collaborating in an interdisciplinary model for optimizing day-to-day workflow for all care team members while delivering the safest and highest quality care to every patient. Born and raised in south Alabama, she met her husband, Josh, native Minnesotan, while he was studying medicine in her home state. They have two children, Carter Jackson (2008) and Harper Elizabeth (2010). Other than spending most of her free time chauffeuring children to activities, she enjoys traveling with family, reading biographies, and watching K-dramas.