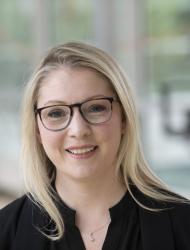 Jessica Lynn Spratt Novak, AUD, CCC-A
Audiologist
(612) 874-1292
Specialties: Audiologist
Professional History
Board Certification
Audiology - American Speech-Language-Hearing Association

Audiology, Pediatric - American Board of Audiology

Professional Education
AUD - Lamar University
Beaumont, TX
2014

Contact Information
Primary Location:
Childrens Minnesota ENT Facial Plastic Clinic
347 N Smith Ave STE 600
St Paul, MN 55102
(612)874-1292

Secondary Location(s):
Childrens Minnesota ENT Facial Plastic Clinic
2530 Chicago Ave S STE 450
Minneapolis, MN 55404
(612)874-1292

Childrens Minnesota ENT and Facial Plastic Surgery Clinic
5950 Clearwater Dr STE 510
Minnetonka, MN 55343
(612)874-1292

Personal Biography
Jessica (Jesi) Novak, AuD, CCC-A, PASC is a licensed audiologist with a specialty certification in pediatric audiology. She received her Doctorate of Audiology from Lamar University. Jesi's interests include electrophysiology, hearing aids and cochlear implants, as well as treatment and follow-up with patients who have had ototoxic exposure. She strives to be family and child centered, focusing her treatment to meet the family's goals, no matter what they may be. Jesi is a member of the American Academy of Audiology (AAA) and American Speech-Language-Hearing Association (ASHA).