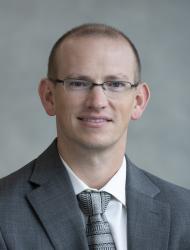 James Evan Fisher, MD
Physician
(612) 813-8000
Specialties: Surgery, Pediatric | Fetal Medicine
Professional History
Board Certification
Surgery, General - American Board of Surgery

Surgery, Pediatric - American Board of Surgery

Medical Education
MD - University of Kansas School of Medicine
Kansas City, KS
2007

Residency/Fellowship
Residency - Mayo Medical School
Rochester, MN
2014

Fellowship - Texas Children's Hospital
Houston, TX

Fellowship - University of Toronto/Hospital for Sick Children
Toronto
2016

Contact Information
Primary Location:
Pediatric Surgical Associates
2530 Chicago Ave S STE 550
Minneapolis, MN 55404
(612)813-8000

Secondary Location(s):
Pediatric Surgical Associates
347 Smith Ave N STE 502
St Paul, MN 55102
(651)220-6040

Personal Biography
James Fisher is a pediatric general and thoracic surgeon at Children's Minnesota. He attended medical school at the University of Kansas where he completed his MD. He completed his surgical training at the Mayo Clinic, Rochester, MN in general surgery and his pediatric surgery fellowship at the Hospital for Sick Children in Toronto, Ontario. His areas of interest are pediatric general and thoracic surgery including minimally invasive laparoscopic and thoracoscopic surgery, neonatal congenital anomalies (including gastroschisis and choledochal cysts), congenital diaphragmatic hernia repair, anal/rectal malformation repair, and Hirschsprung's Disease. He will be participating with the fetal surgery team performing operative fetoscopy for Twin-Twin Transfusion Syndrome and open fetal surgery for open neural tube defects. He will also join the research team at the Midwest Fetal Care Center to assist with research related to ex-vivo and in-utero cell and gene correction strategies related to in born errors of metabolism of the liver.