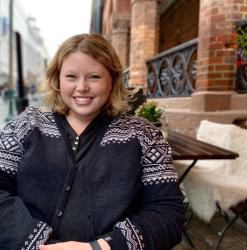 Kathleen Kennedy Miller, MD
Physician
(612) 813-6107
Specialties: Pediatrics
Fluent Languages: Spanish
Professional History
Board Certification
Pediatrics - American Board of Pediatrics

Medical Education
MD - University of Iowa Roy J and Lucille A Carver College of Medicine
Iowa City, IA
2014

Residency/Fellowship
Residency - University of Wisconsin Madison
Madison, WI

Fellowship - University of Minnesota
Minneapolis, MN

Contact Information
Primary Location:
Childrens Minnesota Primary Care
2530 Chicago Ave S STE 390
Minneapolis, MN 55404
(612)813-6107

Personal Biography
Katy Miller is a general pediatrician and current fellow in Adolescent Medicine. She speaks English and Spanish. Areas of interest include immigrant and refugee health, health equity, trauma informed care, and LGBTQ health. She is a member of the Minnesota AAP, the World Professional Association for Transgender Health (WPATH), and Physicians for Human Rights. Select recent publications include: Dharmapuri, S, Miller, KK, Klein, J. Marijuana and Child and Adolescent Health: State of the Art Review. Pediatrics, in press, May 2020. Miller KK, Brown C, Shramko M, Svetaz V. Applying Trauma-Informed Practices to the Care of Refugee and Immigrant Youth: Ten Clinical Pearls. Children (Basel). 2019 Aug; 6(8): 94. Miller KK, Brown SJ, Pfeffer B, Olupot-Olupot P, Kitaka S. Educational Curricula and Programs in Adolescent Medicine for Health Workers in Low- and Middle-Income Countries: A Scoping Review. Journal of Graduate Medical Education. August 2019, Vol. 11, No. 4s, pp. 64-72. Saewyc E, Gewirtz O'Brien J, Miller KK, Edinburgh L. The Links Between Sexual Abuse Severity, Running Away, and Parental Connectedness Among Youth at a Hospital-Based Child Advocacy Center. Journal of Adolescent Health. July 2019. St Clair NE, Butteris S, Cobb C, Connoly E, Groothuis E, Jones S, Lauden S, Miller KK, Winter J, Pitt MB. S-PACK (SUGAR's Pre-Departure Activities Curricular Kit): A Modular and Modifiable Comprehensive Preparation Curriculum for Global Health Experiences. Academic Medicine. 2019.