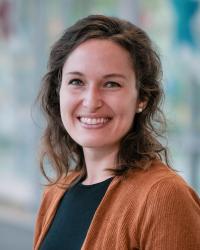 Amy Crighton Fahrenkamp, LP PhD
Psychologist
(612) 813-7888
Specialties: Psychology, Child
Professional History
Professional Education
PhD - Kent State University
Kent, OH
2018

Residency/Fellowship
Fellowship - Mayo Clinic College of Medicine
Rochester, MN
2020

Contact Information
Primary Location:
Childrens Minnesota Pain and Palliative Care
2525 Chicago AVE S STE 32-T5
Minneapolis, MN 55404
(612)813-7888

Personal Biography
Dr. Fahrenkamp is a pediatric psychologist in the Pain, Palliative and Integrative Medicine Department, who provides psychological services to youth and families of youth with chronic pain/symptoms and various medical conditions. Her clinical work focuses on evidence-based assessment and treatment for children and adolescents with varying medical conditions and chronic physical symptoms, including non-pharmacological rehabilitative approaches for managing chronic pain/symptoms, cognitive-behavioral therapy (CBT) approaches to managing mood/anxiety symptoms in the context of health concerns, and acceptance-based coping within the complexities of a difficult diagnoses and treatment demands. Dr. Fahrenkamp finds it most rewarding to support youth in practicing actionable, values-driven skills that bring meaningful change to their lives, in spite of their symptoms or condition. Dr. Fahrenkamp completed her bachelor's degree in Psychology from University of Minnesota Duluth (Duluth, MN) and her doctor of philosophy (Ph.D.) degree in Clinical Psychology (Child Track) from Kent state University (Kent, OH). She also completed her clinical internship in pediatric psychology at Nationwide Children's Hospital (Columbus, OH) and completed a two-year post-doctoral medical psychology fellowship (Clinical Child Track) at Mayo Clinic (Rochester, MN). Prior to joining at Children's Minnesota, Dr. Fahrenkamp worked as a staff psychologist in the intensive interdisciplinary pediatric pain rehabilitation center and on the pediatric consultation/liaison (C/L) service.