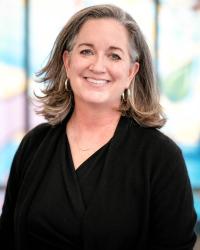 Kristin Mary Dettmer, APRN CNP
Nurse Practitioner - Pediatric
(651) 220-6914
Specialties: Emergency Medicine, Pediatric
Professional History
Board Certification
Pediatric Nursing Certification Board

Professional Education
MSN/PNP - Rush University College of Nursing
Chicago
1997

Contact Information
Primary Location:
Childrens Minnesota Emergency Medicine
345 N Smith AVE STE 70-504
St Paul, MN 55102
(651) 220-6914

Personal Biography
Kristin Dettmer is a primary and acute care certified pediatric nurse practitioner in the Emergency Department at Children's Hospitals and Clinics of Minnesota and sees patients on both the Minneapolis and St. Paul Campuses. She is a graduate of Wheaton College (Wheaton, IL) and Rush University College of Nursing (Chicago, IL) where she achieved a Bachelor of Science in Nursing. After 7 years as a staff nurse in the Pediatric ICU at Rush Medical Center, Kristin obtained a Masters Degree in Nursing with an emphasis in Pediatrics, also from Rush University. Kristin worked as a nurse practitioner in a primary care clinic for a year and then joined the Children's Emergency Department in 1999 after relocating to the Twin Cities. Along with her ED nurse practitioner colleagues, Kristin has helped to facilitate the re-expansion of the nurse practitioner program to the Minneapolis campus. Kristin is married and has school-aged quadruplets.