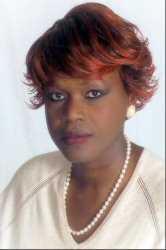 R Angela Wandera, DDS MS
Dentist
(952) 941-7393
Specialties: Dentistry, Pediatric | Dentistry, Orthodontics
Professional History
Board Certification
American Board of Pediatric Dentistry

Professional Education
Dentistry - University of Nairobi
Nairobi
1987

Residency/Fellowship
Residency - University of Minnesota School of Dentistry
Minneapolis

Residency - University of Minnesota School of Dentistry
Minneapolis
2002

Fellowship - University of Missouri Kansas City School of Dentistry
Kansas City

Contact Information
Primary Location:
Dr Angela Wandera and Associates
8785 Columbine RD
Eden Prairie, MN 55344
(952) 941-7393

Personal Biography
Angela Wandera completed her dental and specialty education at the Universities of Nairobi and Minnesota and has served as a faculty member at the Universities of Missouri, Michigan and Minnesota where she taught and mentored dental students and residents. She currently practices orthodontics and Pediatric Dentistry in Eden Prairie and her clinical areas of interest are growth and development in all children, prevention and behavior management. She has presented at continuing education courses both locally and nationally, has authored multiple articles and served on the Editorial Board for 'Pediatric Dentistry'. She maintains membership in the Minnesota and American Dental Associations, the American and Minnesota Academies of Pediatric Dentistry and the American Association of Orthodontists. She has served in various Councils with the American Academy of Pediatric Dentistry and is a Diplomate of The American Board of Pediatric Dentistry.