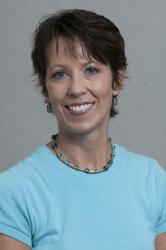 Vicki M. Oster, MD
Physician
(952) 831-4454
Specialties: Pediatrics
Professional History
Board Certification
American Board of Pediatrics

Medical Education
MD - University of Minnesota Medical School
Minneapolis
1990

Residency
Residency - University of Minnesota Medical Center
Minneapolis

Residency - University of Minnesota Medical Center
Minneapolis

Contact Information
Primary Location:
Southdale Pediatric Associates
3955 Parklawn AVE
Suite 120
Edina, MN 55435
(952) 831-4454

Secondary Location(s):
Southdale Pediatric Associates
501 E Nicollet BLVD
Suite 200
Burnsville, MN 55337
(952) 898-5900

Southdale Pediatric Associates
18315 Cascade DR
Suite 170
Eden Prairie, MN 55347
(952) 949-0399

Personal Biography
Dr. Vicki Oster earned her medical degree at the University of Minnesota and completed her residency there as well. She also served as Chief Resident of Pediatrics at the University of Minnesota during 1993 and 1994, and remains in contact with the University as a clinical assistant professor. Dr. Oster began practicing with Southdale Pediatric Associates, Ltd. in July, 1994. Dr. Oster currently serves as President of Southdale Pediatrics. She sees patients primarily at the Eden Prairie office location, working full time M-Tu-Th-F (off on Wednesday). Dr. Oster's special interests include general pediatrics and teaching. She loves watching children grow and develop to their full potential and helping new parents build their confidence. She enjoys spending her free time with her two sons, Charlie and Jack. She also enjoys traveling and golfing with her husband, Dave.