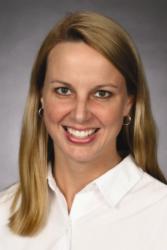 Thekla K. Swanson, DDS
Dentist
(952) 831-4400
Specialties: Dentistry, Pediatric
Professional History
Board Certification
American Board of Pediatric Dentistry

Professional Education
DDS - University of Minnesota School of Dentistry
Minneapolis
2004

Residency
Residency - University of Minnesota School of Dentistry
Minneapolis
2006

Contact Information
Primary Location:
Dentistry for Children and Adolescents
7373 France AVE S
Suite 402
Edina, MN 55435
(952) 831-4400

Secondary Location(s):
Community University Health Center
Dental Clinic
2001 Bloomington AVE S
Minneapolis, MN 55404
(612) 638-0700

Childrens Minnesota Craniofacial Center
2530 Chicago AVE S STE 450
Minneapolis, MN 55404
(612) 813-6888

Personal Biography
Thekla K. Swanson, DDS trained at the University of Minnesota and completed her specialty training in pediatric dentistry in 2006. She is a diplomated of the American Board of Pediatric Dentistry. Dr. Tek is in private practice with Affiliated Pediatric Dentists, PA. They have office locations in Minnetonka, Edina, and Burnsville. Her special interests include treating patients with special needs. Dr. Tek is married and has two-year old son, Tiegan.