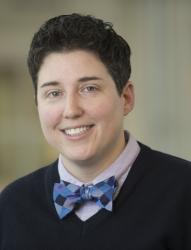 Angela Goepferd, MD
Physician
Specialties: Pediatrics
Professional History
Board Certification
Pediatrics - American Board of Pediatrics

Medical Education
MD - University of Minnesota Medical School
Minneapolis, MN
2004

Residency/Fellowship
Residency - University of Minnesota Medical Center
Minneapolis, MN

Contact Information
Primary Location:
Childrens Minnesota Medical Education
345 N Smith AVE STE 70-103
St Paul, MN 55102

Secondary Location(s):
Childrens Minnesota Primary Care
2530 Chicago AVE S STE 390
Minneapolis, MN 55404
(612) 813-6107

Personal Biography
Dr. Angela Kade Goepferd is a Pediatrician in the outpatient Children's Minneapolis Primary Care clinic, and is the Director of Medical Education for Children's . As the Director of Medical Education, she directs all Graduate Medical Education (GME) and Continuing Medical Education (CME) at Children's Minnesota. She also works closely with the Advocacy and Health Equity departments at Children's and is committed to improving health care for all children. In addition to her role at Children's, she also serves as a board member of the MMCGME (Minnesota Metro Council on Graduate Medical Education) and is an Adjunct Assistant Professor in the University of Minnesota Department of Pediatrics. She was elected to the board of the MN AAP in 2016 where she serves as an executive board member and participates as a member of the Poverty and Health Disparities work group. In her pediatric practice, Dr. Goepferd enjoys working with new, first-time parents as well as adolescent parents, and has a special interest in adolescent health, including the health of LGBT youth. She speaks Spanish, and enjoys working with Latino families and other new immigrant families. Dr. Goepferd has a special interest in working with LGBT Youth and families and has presented and taught regularly on this topic. She enjoys teaching medical students and residents about Adolescent Sexuality and Health Disparities and has been a guest speaker at the University of Minnesota Academic Health Center, with the Children's Speakers Bureau and at Children's CME conferences on the topics of Working with LGBT Youth, Caring for Transgender Children and families and Adverse Childhood Experiences/Toxic Stress. She also leads staff trainings for how to work with Transgender children and their families.