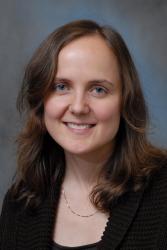 Michelle N. Rheault, MD
Physician
(612) 365-6777
Specialties: Nephrology, Pediatric
Professional History
Board Certification
American Board of Pediatrics

Medical Education
MD - University of Minnesota Medical School
Minneapolis
1999

Residency/Fellowship
Residency - University of Minnesota Medical Center
Minneapolis
2002

Fellowship - University of Minnesota Medical Center
Minneapolis
2006

Contact Information
Primary Location:
University of Minnesota Nephrology
2450 Riverside AVE S MB 680
Minneapolis, MN 55454
(612) 365-6777

Personal Biography
Dr. Michelle Rheault is a Pediatric Nephrologist at the University of Minnesota. She graduated from the University of Minnesota Medical School and also completed her pediatric residency and pediatric nephrology fellowship there. After her fellowship, she joined the faculty at Mount Sinai School of Medicine in New York while completing a postdoctoral fellowship in kidney research. Dr. Rheault returned to Minnesota in 2008. She is a member of the American Society of Nephrology and serves on the research committee of the American Society of Pediatric Nephrology. Dr. Rheault s research is focused on understanding podocyte cytoskeletal dynamics during nephrotic syndrome and recovery from nephrotic syndrome in diseases such as Focal Segmental Glomerulosclerosis and Minimal Change Nephrotic Syndrome. She also has a special interest in interactions between the podocyte and glomerular basement membrane in disorders of the basement membrane such as Alport Syndrome. Dr. Rheault's research is funded by the Minnesota Medical Foundation.