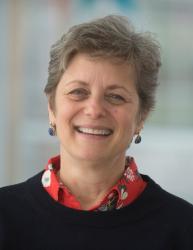 Nancy Joan Mendelsohn, MD
Physician
(952) 992-5290
Specialties: Medical Genetics and Genomics
Video: Watch Video Profile
Professional History
Board Certification
Medical Education
MD - University of Missouri Columbia School of Medicine
Columbia, MO
1987

Residency/Fellowship
Residency - St Louis Children's Hospital
St Louis, MO

Fellowship - St Louis Children's Hospital
St Louis, MO

Contact Information
Primary Location:
Childrens Minnesota Credentials Office
5901 Lincoln Dr CBC-2-PSS
Edina, MN 55436
(952)992-5290

Personal Biography
Dr. Mendelsohn is a senior physician-scientist and healthcare leader with an international reputation as a clinical geneticist, researcher, and with deep leadership experience in multiple roles for one of the largest Children's hospital centers in the country. Dr. Mendelsohn's responsibilities in her previous role as chief of specialty pediatrics at Children's Minnesota include the strategy and development of the multi-specialty physician practice. She had accountability for all medical specialty departments including monitoring, managing and improving the delivery of specialty care services, ensuring top quality outcomes, developing external partners, and partnering to manage divisional budgets. Prior to her current position as senior medical director, Dr. Mendelsohn has 25 years as a board-certified medical geneticist and a national leader in the clinical genetics community. Dr. Mendelsohn received an undergraduate degree in Molecular Biology from Indiana University and an MD from the University of Missouri in 1987. From 1987 to 1992, she completed a residency in pediatrics and fellowship in medical genetics at Washington University Children's hospital in St. Louis Missouri. She then spent 3 years as a Public Health Service Pediatrician, West Side Community Health Center, in St. Paul Minnesota where she learned to speak Spanish fluently. In 1995, Dr. Mendelsohn moved to Hennepin County Medical Center in Minneapolis Minnesota as a general pediatrician and an Assistant Professor, Division of Medical Genetics, Department of Pediatrics, at the University of Minnesota, Medical School, where she established the first genetics service for this indigent care hospital. In 2001, she established the genetics service at Gillette Children's Specialty Healthcare, a hospital dedicated to the care of special needs children. Under her leadership, the service grew to include a dedicated genetics physician, genetic counselors, and became integrated with the genetic consultative services for the broader hospital. In 2003 Dr. Mendelsohn joined the staff at Children's Minnesota. From 2007 - 2015 she was the Medical Director, Department of Medical Genetics, Children's Minnesota, and grew the service from 2 clinicians to the largest genetics program in the upper Midwest with new services that include medical genetics, genomics, metabolics and pharmacogenomics. As the Lead Physician Liaison of Service Excellence for the employed clinicians at Children's Minnesota, 2012 to 2013, she was responsible for partnering with the service excellence team to engage physicians in service excellence improvements, including educating clinicians about the importance of service excellence for their patients, families, and the overall institution. During this time she facilitated the establishment of a morale committee toward decreasing physician burnout and improving hospital administration-medical staff relationship. In 2013 -2017 Dr. Mendelsohn became the senior medical director of ambulatory specialty care until her promotion to the chief position. In her senior medical director position she had responsibility for the multi-specialty physician practice management , system operations management, physician recruitment and contract negotiations, program startup and closure, EMR implementation leadership, and hospital administration-medical staff relationship improvement. Dr. Mendelsohn has more than 50 peer reviewed publications, book chapters and presentations. She has deep specific clinical expertise in lysosomal storage disorders, has published in the New England Journal of Medicine on this topic, and has served broadly on national committees for the American Academy of Pediatrics (AAP), American College of Medical Genetics & Genomics (ACMGG), and within Children's Minnesota.