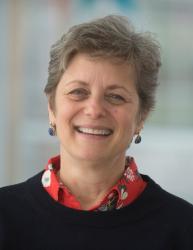 Nancy J. Mendelsohn, MD
Physician
(612) 813-7240
Specialties: Medical Genetics and Genomics
Video: Watch Video Profile
Professional History
Board Certification
American Board of Medical Genetics and Genomics

Medical Education
MD - University of Missouri Columbia School of Medicine
Columbia
1987

Residency/Fellowship
Residency - St Louis Children's Hospital
St Louis

Fellowship - St Louis Children's Hospital
St Louis

Contact Information
Primary Location:
Childrens Minnesota Specialty Care Senior Medical Director
2530 Chicago AVE S STE CSC 560
Minneapolis, MN 55404
(612) 813-7240

Secondary Location(s):
Childrens Minnesota Neurocutaneous Syndromes
2530 Chicago AVE S STE 560
Minneapolis, MN 55404
(612) 813-7076

Childrens Minnesota Genetics
345 N Smith AVE STE 61-245
St Paul, MN 55102
(612) 813-7240

Personal Biography
Nancy Mendelsohn, MD, joined Children's Hospitals and Clinics of Minnesota in 2002 where she is currently Senior Medical Director of the Specialty Care Division, and Director of the Medical Genetics Department. She also serves as an assistant professor at the University of Minnesota Medical School. The Specialty Care Division at Children's is a multidisciplinary pediatric center. Its primary goal is to provide quality health care for children so they can continue to lead normal daily lives while requiring less inpatient hospital admissions and Emergency Department visits. The division includes thirteen surgical and medical specialties. Children's Medical Genetics Clinic, one of the largest in the region, focuses on diagnosing and managing genetic conditions caused by changes in the body's instructions, or genes. Dr. Mendelsohn received her MD degree from the University of Missouri School of Medicine (Columbia, MO) and completed her pediatric residency, as well as her fellowship in medical genetics, at St. Louis Children's Hospital, Washington University (St. Louis, MO). She is board certified Medical Genetics, Fellow of the American Academy of Pediatrics, and has received additional training in administrative leadership. She is currently the Principal Investigator of several grant-funded studies, lectures extensively locally and nationally, and has an extensive track record of publications in the field. In 2013 she received the Shining Star/Physician of the Year Award from the MN DeafBlind Project, and has been recognized as a "Best Doctor" in the Twin Cities region for multiple years. Dr. Mendelsohn resides in Mendota Heights, Minn. with her husband, Jay and has two grown children.