New VNS device a life-changer for kids with seizures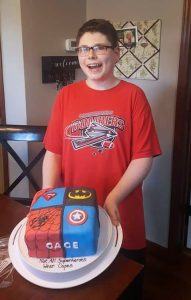 Every so often, a little device pings in Gage Robinson's chest. He may not notice it, but he knows it's making his life better.
Gage was the first pediatric patient in Minnesota to receive the new SenTiva device, which delivers vagus nerve stimulation (VNS) to prevent seizures. While VNS therapy is not new, the technology in Gage's implanted device is: it's the first to have a detect-and-respond feature. The device scans for signs that might preclude a seizure, such as a spike in heart rate, and then triggers a pulse of electrical current to the brain to eliminate or reduce the severity of the seizure. It also enables doctors to customize the therapeutic settings based on an individual's seizure pattern.
That's a game-changer for the 9th grader, who has lived with seizures most of his life following a traumatic brain injury in infancy. Since getting his new device at Children's more than a year ago Gage has suffered far fewer seizures and reduced his medications significantly.
His family has noticed a big difference in his mood, too. With a dramatic reduction in behavioral issues and learning difficulties, Gage has transitioned to mainstream classrooms.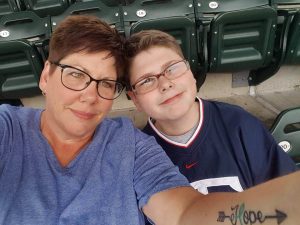 Neurosurgeon Dr. Meysam Kebriaei performed the surgery to implant the SenTiva technology, which consists of a small device placed in the chest and connected to wires that wrap around the vagus nerve in the neck. Gabe's neurology team can now monitor and program his therapy via an app on a tablet. A doctor simply passes a wand over Gage's chest to collect and download the data from the device.
His doctors expect to see continued improvement in Gage's condition, as the device collects — and responds — to his body's data. For now, he and his family are enjoying a new normal: peace of mind, restful nights and better days.
Stefanie Kula