Children's Minnesota nurses join together to Walk for Amazing
Emily Machones, RN and Megan Vanderheyden, RN of the PICU in Minneapolis have joined together to support the patients they care for every day.
By: Emily Machones, RN PICU Minneapolis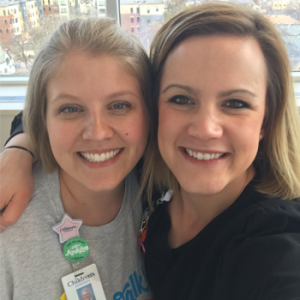 "Walk for Amazing is a great event bringing all of Children's Minnesota together. Working in the Pediatric Intensive Care Unit in Minneapolis, we often see patients and families going through some of the worst days of their lives. As caregivers, we are so grateful to get the chance to be helpful in these situations and we especially love seeing our patients get better. Megan and I became co-captains to represent our unit last year so we could get involved with the Foundation's efforts that help our patients. The Walk benefits resources like the Ronald McDonald House that our families utilize regularly. Megan says, 'I thought it would be a fun way to bring our unit together.'
As employees, we choose to give back to Children's because we are proud of where we work. We want to represent our amazing PICU team. Nurses could not do what we do every day without our coworkers from so many disciplines. Our patients inspire us to be remarkable and drive us to be better. Join us at the Walk for Amazing this year."
Walk for Amazing
Walk for Amazing 2019 is a fundraising walk for Children's Minnesota that supports people of all ages and diagnoses. Family-friendly activities and entertainment include:
Face painting
Yard games
Performance by DJ Kids Dance
Bouncy houses
Finisher medals for all participants
Event Date and Time
June 22, 2019, 7:30 a.m. – 11:30 a.m.
Location
U.S. Bank Stadium
401 Chicago Avenue
Minneapolis, MN 55415
Alexandra Rothstein