Children's nurses receive awards from colleagues and patient families
On Tuesday, May 21, nurses and employees throughout Children's Minnesota came to the Minneapolis Education Center to support their colleagues as they were presented with awards for their exceptional service and patient care.
Pam VanHazinga, chief nursing officer and vice president patient care services, and Dr. Marc Gorelick, president and CEO, kicked off the awards ceremony with words of encouragement and deep gratitude for the work, heart and compassion that all of our nurses bring to Children's every day.
In his opening remarks, Dr. Gorelick offered a warm and inspiring message to all those attending.
"All of us who are involved in care here will use some combination of our heads, our hands and our hearts to do what we need to do for patients and families, but nurses in particular embody that caring element," he said, adding, "It's the unique contribution that you all make to what we do here. I see it as I walk around the hospitals – when you're interacting with families, when you're interacting with patients, when you're interacting with each other. That element of care comes out and it shows up here in that value of Kids First."
During the ceremony, the following awards were distributed to our outstanding Children's nurses.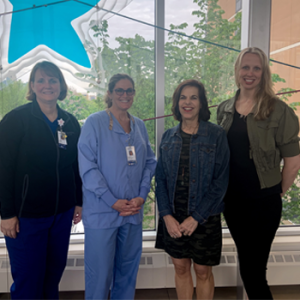 DAISY Awards
The DAISY Award is an international program that rewards and celebrates the skillful, compassionate care nurses provide patients and families. Families themselves nominate the nurses who have positively impacted their lives.
2019 award recipients:
Laura Kringle, Pediatric Intensive Care Unit – St. Paul (PICU-STP)
Erin Wittenberg, 7th floor – Minneapolis
Lisa Walz, Special Care Nursery (SCN) – Mercy
Natalie Schmidt, Post-Anesthesia Care Unit – St. Paul (PACU-STP)
Medical Education Nursing Awards
The Medical Education Nursing Award is presented annually to a nurse from Minneapolis and St. Paul who has demonstrated outstanding skills and commitment in working with and teaching residents and students at Children's.
2019 award recipients:
Wanda Ohman, 6th floor – Minneapolis
Zoe Reker, 6th floor – St. Paul
Nurses Week Awards
The Nurses Week Awards recognize nurses who demonstrate excellence in the categories of Advanced Excellence, Partners in Care, Nursing Care Delivery, Shared Governance and Children's Way. Nurses who are nominated for these awards are nominated by their peers.
 2019 award recipients:
Advanced Excellence
Nina Noe, Pediatric Intensive Care Unit – Minneapolis (PICU-MPLS)
Ashley Johnson, Lactation – Minneapolis
Partners in Care
Paige Hines, PICU-MPLS
Katie Koehler, PICU-MPLS
Hallie Ruhl, PICU-MPLS
Victoria Christensen, Neonatal Intensive Care Unit – St. Paul (NICU-STP)
Nursing Care Delivery
Judith Suigimura, PICU-MPLS
Michelle Whiteside, Sedation and Procedural Services – Minneapolis (SPS-MPLS)
Shared Governance
Erin Januschka, 6th floor – Minneapolis
Children's Way
Keri Marti, Preop/PACU-STP
Brea Anderson, Pediatric Intensive Care Unit – St. Paul (PICU-STP)
Please join us in thanking and congratulating our remarkable nurses for all that they contribute to our patients, families and to Children's as an organization.
Alexandra Rothstein