Introducing the newly named Harper Family Foundation's Cancer and Blood Disorders Clinic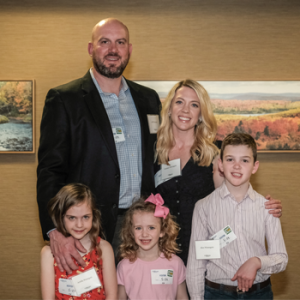 On May 24, the Harper Family Foundation trustees and their extended family celebrated the official naming of the Harper Family Foundation Cancer and Blood Disorders Clinic. Dr. Marc Gorelick, president and chief executive officer at Children's Minnesota, opened the dedication of the newly-named clinic with special remarks.
"This gift sows the seed for future generations," Dr. Gorelick said.
Dr. Nathan Gossai, pediatric oncologist and director of the leukemia and lymphoma program at Children's Minnesota, spoke about the impact of the Harper Family Foundation's $1 million gift to the Cancer Kids Fund. The fund provides financial, emotional and physical relief during a cancer or blood disorders journey. These things are exceedingly important but not covered by insurance, Dr. Gossai said.
Jeff and Lindsey Wenngatz then took the stage to share their personal Children's story. Jeff is the grandson of the late Mike and Joan Harper, founders of the Harper Family Foundation. Their son Alex was diagnosed with acute lymphoblastic leukemia in February 2012.
"As you can imagine, our world was turned upside down," Jeff said.
Treated at Children's, Alexander and his family, like all patients in the Cancer and Blood Disorders Program, benefited from the Cancer Kids Fund. A dedicated child life specialist, meal and parking vouchers, and visits from the Zoomobile helped Alex feel like a kid amidst his unexpected diagnosis. Following treatment, Alex was deemed cancer free until June 2018, when the family received a devastating diagnosis of secondary acute myeloid leukemia.
Today, Alex is about to finish third grade. He and his family just welcomed a new puppy – a bulldog – and look forward to spending the summer outside as much as possible.
The Harper Family Foundation, which made the substantial gift to Children's Minnesota in honor of the care Alex received, seeks to affect the world around it, make a difference and directly impact people.
"We feel so strongly that other families are able to get the same care and help make their journey a little easier," Lindsey said.
If you're interested in donating to Children's like the Harper Family Foundation, visit the GIVE page for more information.