A successful send-off: Improving the inpatient discharge process
"Discharge is the moment that every patient/patient family waits for, and it's also the moment that every patient/patient family is terrified for."
These words from a parent emphasize the importance of intentional, collaborative and frequent discharge planning conversations. Though leaving the hospital is exciting, it can also be overwhelming for families who are grappling with new routines, medications or equipment. Staff at the bedside also feel the implications if the discharge process isn't coordinated or is inconsistent. In response to the opportunities we have to improve the patient family and staff experience during discharge, a work group has been formed to ensure a successful transition for every patient from the hospital to home.
Introducing the discharge optimization project
The goal of the discharge optimization project is to create a standardized inpatient discharge process that ensures families feel comfortable, involved and equipped to care for their child at home. To do this, Children's is taking a deeper look at the roles of those involved in the discharge process, how we communicate as a team, how and what we provide in discharge summaries, and the tools and processes we have in place.
"We all want families to feel confident when they leave the hospital, and we're already doing many things well to help set them up for success," said Theresa May, RN, senior director clinical services – care continuum and informatics. "Establishing more consistent discharge processes not only helps families feel more prepared, but can ultimately save the care team time and energy when everyone is on the same page."
The process to a better discharge experience
In July, Theresa and Rabindra Tambyraja, MD, chief medical information officer, brought together an interdisciplinary team of clinical nurses, nurse educators, nurse leaders, clinical practice specialists, clinical nurse specialists, nursing informatics, respiratory therapists, pharmacists, attending providers, specialty providers, IT and more, to begin reviewing our current discharge practices and opportunities for improvement.
The project started with an on-site assessment from a Cerner Practice Improvement team, who led focus groups, rounded on several units, recorded family stories and completed a process mapping exercise. One of their findings was a highly variable process from unit to unit, and patient to patient. The Children's team embarked on defining a new discharge process, aligned with the evidence-based Agency for Healthcare Research and Quality (AHRQ) IDEAL Discharge Model:
Include the patient and family as full partners in the discharge planning process.
Discuss with the patient and family five key areas to prevent problems at home.
Educate the patient and family in plain language about the patient's condition, the discharge process, and next steps throughout the hospital stay.
Assess how well doctors and nurses explain the diagnosis, condition, and next steps in the patient's care to the patient and family and use teach back.
Listen to and honor the patient's and family's goals, preferences, observations and concern
"One of the core principles of this project is involving the patient family as a key member of the health care team – when we all join together to support a patient's journey to home, we can help ensure better outcomes," said Theresa. "The IDEAL model aligns with Children's focus on patient- and family-centered care, and calls for strong engagement with the family, which is critical to their success at home."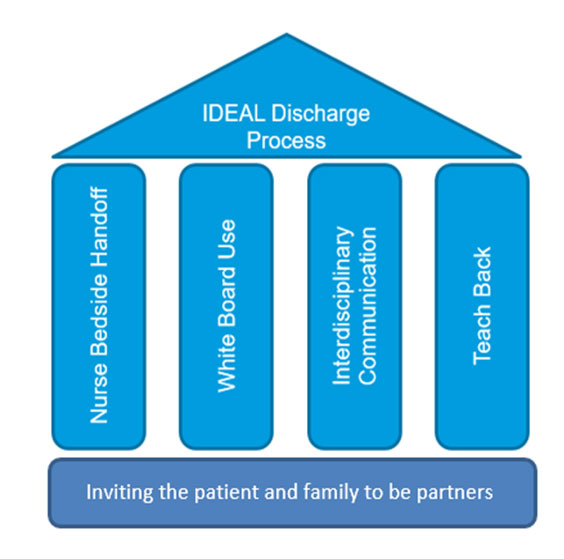 As we move through the components of the IDEAL model, we are identifying opportunities during the admission process, daily rounds and on the day of discharge that will help us establish standard discharge process workflows, improve communication, define roles and provide improved family education resources.
The team is also making enhancements to the discharge status feature within Cerner, which will go live in December.
"Making the best use of our EMR tools is one way we can ensure a smooth, efficient process that supports the discharge workflow," said Rabindra Tambyraja, MD, chief medical information officer. "However, the foundation of a successful discharge begins with effective communication across the entire care team. Reimagining how we join together as a team is inherent to ensuring a safe, high-quality discharge experience for patients and families."