Here's how you can prevent burns in your kitchen
Burns can happen in any home, whether it's a hot faucet, tipping cup of coffee, oven or even a too-hot fork or plate. In fact, burns are one of the most common childhood accidents. But not all burns are created equal. As every burn differs based on the cause, they require unique treatment.
Here are a few different types of burns that can happen inside the home:
Contact burns
Contact burns happen when the skin touches a hot object like the stove or oven. According to the American Burn Association, about 70,000 people went to the emergency department for contact burns in 2018, and roughly one third of these patients were children under the age of 5.
Scalds
Scalds are the most common type of burn and are caused by things like hot steam, spilled coffee, hot foods or cooking oil. This happens most often when a caregiver is holding a baby while drinking coffee or cooking then accidentally spills. But spills can also happen when kids reach up to get food out of the microwave or off the counter.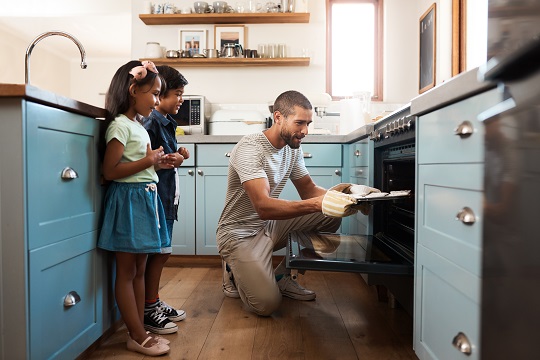 Electrical burns
Electrical burns can happen when kids stick their fingers or objects in electrical outlets or bite on electrical cords.
Chemical burns
These burns occur when a child swallows or spills harmful chemicals such as drain cleaner or bleach. In addition to causing a burn, these chemicals are also toxic. If your child swallows a chemical, be sure to reach out to poison control and get medical help right away.
Be sure to save the poison control number, 1-800-222-1222, in your phone, include it in instructions for babysitters and keep it near areas where children play. Poison centers are staffed with trained medical professionals who can offer free advice.
How can I prevent burns?
Babies and young children are especially at risk for burns because they're small, have sensitive skin and are curious about the world around them. Follow these tips to prevent burns from happening in the kitchen:
Let it cool
Hot foods and drinks should be set out to cool for a few minutes before you serve them to your kids. You might even want to try the food before serving, and remember: if it feels hot to you, it's too hot for children, who are much more likely to spill.
Keep it out of reach
Always keep hot foods and drinks out of reach of kids. Turn the handles of pots and pans so they aren't near the edge of the stove. Place cooling foods in the center of the counter or table so kids don't reach for them. Covers for stove knobs can be purchased so that it's difficult for children to accidentally turn on the stove. Ovens often have a locking mechanism to prevent accidental opening.
Move chemicals out of reach of children or keep them behind a locked door. You should also keep cords tied up and out of view whenever possible. You can purchase inexpensive outlet covers at most retail stores or online.
Use a lid
Even when you are at home, you should use a travel mug or a cup with a tight-fitting lid for coffee and other hot drinks to prevent spills and burns.
Be careful with microwaves
When microwaving food for your child, make sure to stir the food after heating to get rid of hot spots. While the microwave is fairly simple to use, do not let young children heat their own food. Activate child locks on microwave ovens. If you are unsure how to do this, look at your instruction manual or contact the manufacturer.
Keep it kid free
Mark a 3-foot space around your stove or other areas where you prepare food to prevent burns. If you have very young children, you may want to set up a barrier, like a baby gate, to prevent kids from getting too close to food preparation areas.
How can I treat a burn?
Because there are different types of burns that can range from mild to life-threatening, there's not a single course of treatment. If your child does get a burn, these tips can help you temporarily relieve pain until you can get medical care for your child. Once you minimize the pain, go to an emergency department to get further assistance. In the cases of severe burns, always call 9-1-1.
Emergency care at Children's Minnesota
We encourage you to do everything you can to prevent burns from happening, but in the case that an accident does happen, we're here to care for your child every step of the way. Between our two emergency departments in St. Paul and Minneapolis, we care for more than 90,000 patients each year, meaning that we care for more pediatric emergency and trauma patients than any other health care system in the area. We are also home to the region's only Level I pediatric trauma center in a hospital dedicated only to kids.
While we would rather see kids safe and at home, our robust team of experts in trauma and emergency care is always there to help your child, no matter what happens.
Kaitlyn Kamleiter